WHAT ARE DUROCK SILENT LINEAR SWITCHES ? DAYBREAK & DOLPHIN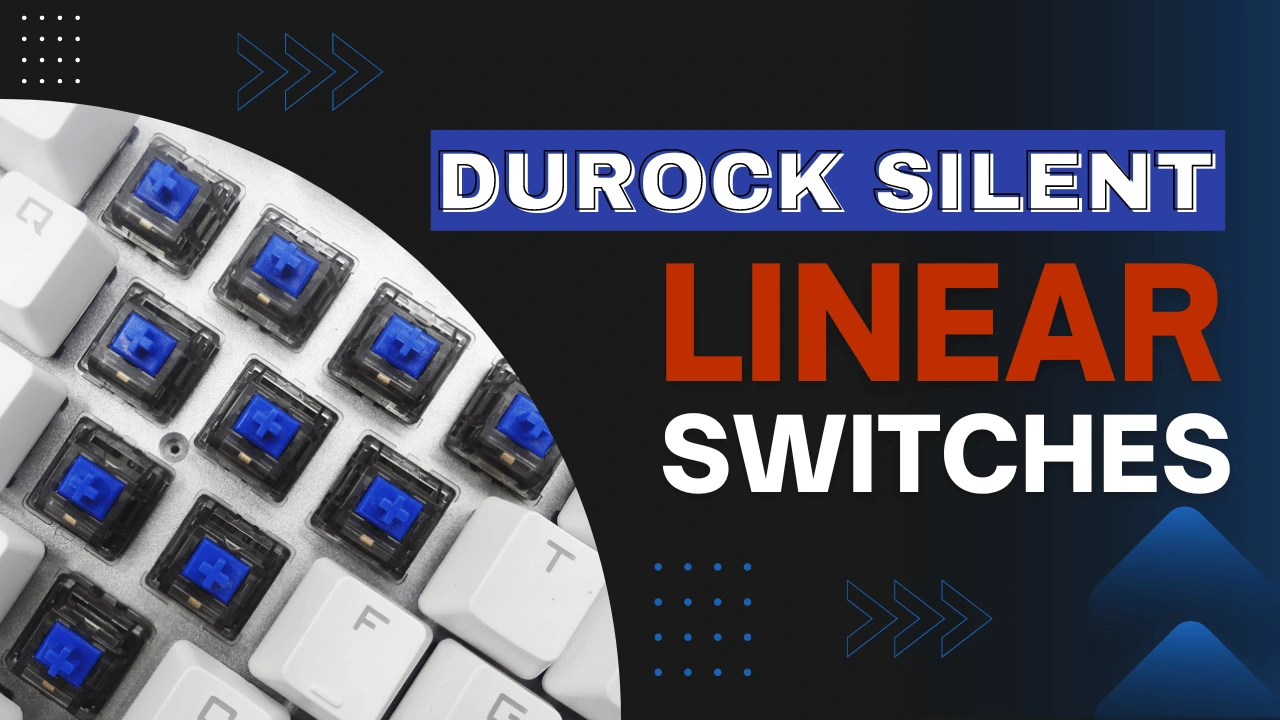 In the list of silent linear switches, We can't forget durock silent linear switches by their extreme smoothness and king of silent switches and community favorites. In general, Durock manufactures three types of silent switches which are efficiently findable Dolphin and Daybreak linear switches.
On the other hand, durock shrimp are tactile switches. So In this blog, covering Durock silent switches with different aspects and help to find the right as rain option for your mechanical keyboard;
Durock Silent Switches
A silent linear switch from JWK Durock works much like a regular linear switch from Durock. Plus, their housing and stem are made from the same great materials, but the stem rails are muted to dampen the sound of keystrokes. In offices and other common areas, these are perfect for sound-sensitive environments.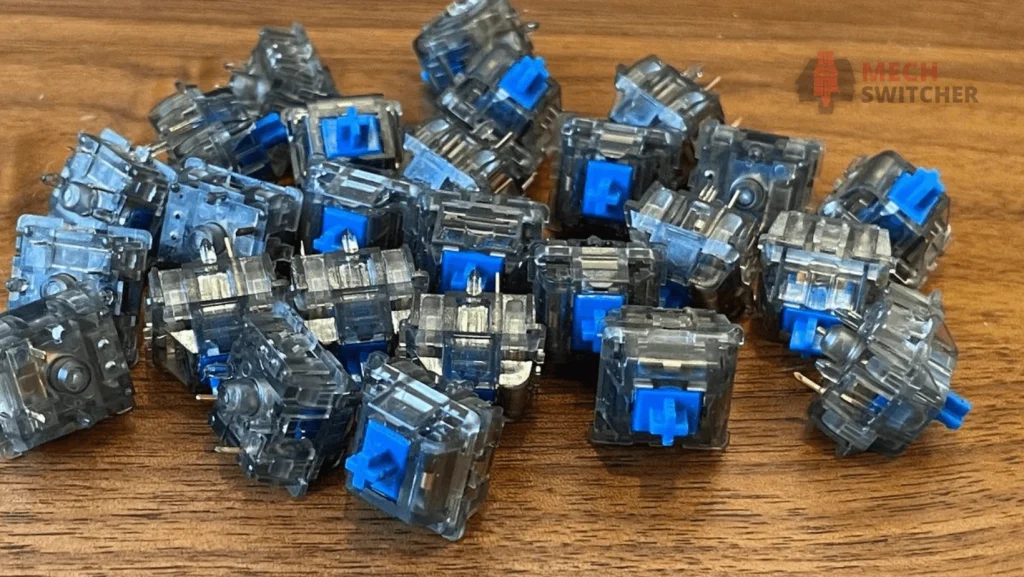 Asked me, the sound was too good, swiftly adjusted in sensitive environments like whisper rooms, and won't bother your roommates. After all, suppose you added o rings and decent lube. Also, you would not be able to hear them unless you changed the springs and added a switch film.
Components of Durock Silent Linear Switches
There are following curial components that make the Durock silent switches noiseless and king of silent mechanical switches, such as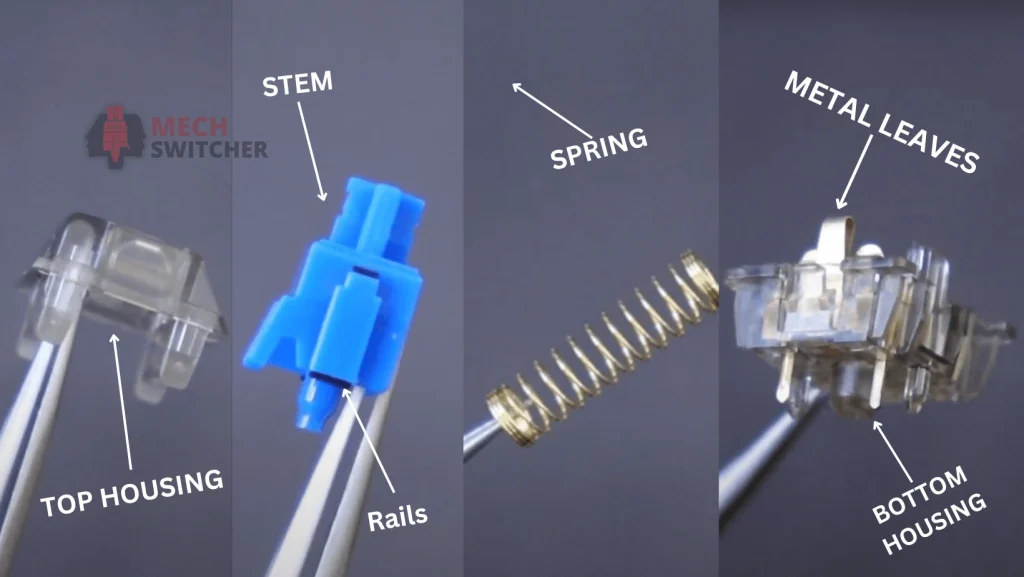 Top Housing
The top housing made by polycarbonate of these switches. And, the durability and reliability of polycarbonate make it a great choice for switches that must withstand wear and tear.
These linear switches have a polycarbonate top housing that provides smooth and consistent actuation for quiet, responsive operation. As a result of its low fatigue susceptibility, top housings of polycarbonate have a longer life expectancy than those of other switch types.
Stem
A robust and durable POM plastic stem is used in the Durock silent switches. Moreover, this way, the switch can last a long time without deteriorating. Furthermore, the POM plastic stem ensures consistency and accuracy over the lifetime of the switch.
Stem Rails A removable silicone silent circle around the stem rails of Durock silent switches helps dampen the sound of keystrokes. Also, a durable material makes the stem rails of this switch durable and reliable. In fact, a quiet and responsive switch is also made possible by the stem rails, which provide smooth and consistent actuation.
Spring
Durock's linear switches has a 67g bottom-out force. Using this spring, the switch is actuated consistently, smoothly, and with greater quietness than traditional springs. As well as preventing corrosion, gold plating improves the durability of the switch. Plus, as a result of the spring's lightweight design, it can actuate quickly without putting too much pressure on the switch.
Metal Leaves
A smooth and consistent typing experience can be achieved with Daybreak Linear Switches thanks to their gold-plated metal leaves. Moreover, a gold-plated metal leaf also ensures the long-term accuracy and consistency of the switch.
Bottom Housing
Having nylon bottom housing, They're a great choice for switches that must last a long time and be reliable. Also, durock silent mechanical switches feature a nylon bottom housing that allows a smooth and consistent actuation, resulting in a quiet and responsive switch.
Types of Durock Silent Switches 
There are two types of durock silent linear mechanical and tactile silent switches. So, here's I cover only;
JWK Durock Daybreak Silent Linear Switches
JWK Durock Dolphin Silent Linear Switches
What are Durock Daybreak Linear Switches?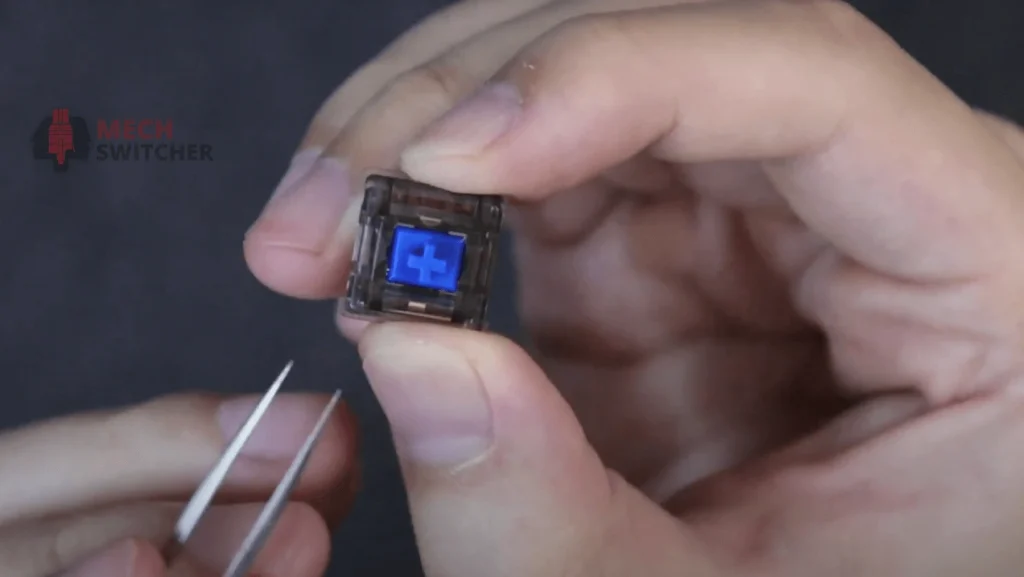 Durock Daybreak Silent Switches are designed for gamers and keyboard users who do a lot of typing and gaming. In fact, a special anti-logic self-cleaning mechanism improves durability and extra seals around the switch housing. It's also very responsive, smooth to the touch, and provides audible click feedback, making it ideal for gamers and typists looking for fast, responsive input.
Pros
 Daybreak Silent Switches provide a quiet and smooth typing experience.
Besides being dust-proof, the switches also have gold-plated contacts.
50 million keystrokes
Additionally, they can be customized according to the preferences of the user.
Cons
Relatively expensive.
Some users give less tactile feedback than other mechanical switches.
Features of Durock Daybreak
There are the following crucial features of silent daybreak switches that make you electing decisions such as;
Actuation force – 67g
A Daybreak silent linear switch has an actuation force of 67g, which is relatively higher than Durock Dolphin switches. After all, they're the perfect choice for gaming and smooth typing than Durock tactile silent switch.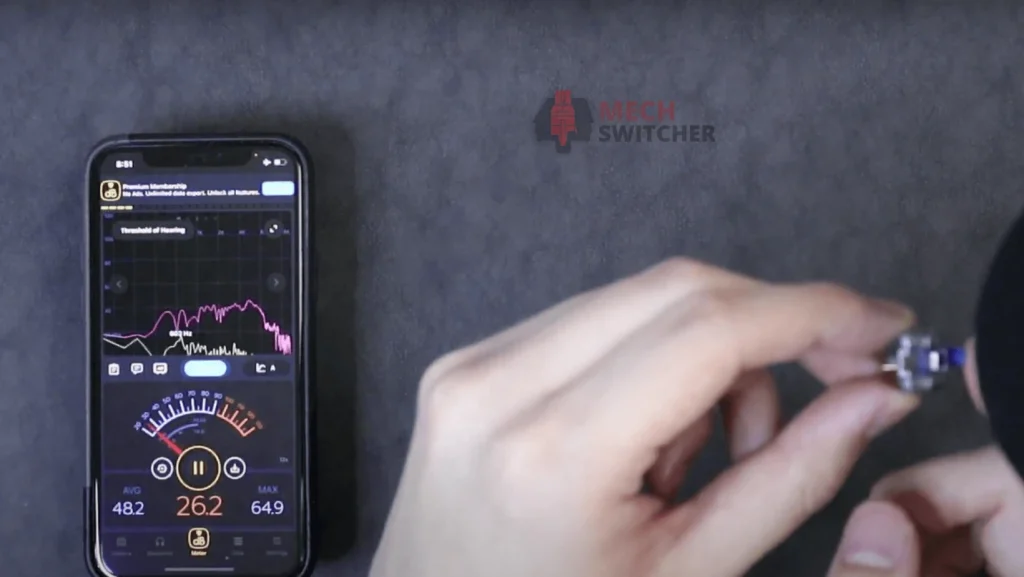 Travel Distance – 2mm to 4mm
There's a 2mm pre-travel distance, and 4mm is the total travel distance of durock Daybreak silent switches. Also, the travel distance helps to enhance the typing speed while pressing down. And get rid of finger strain while continuing key pressing.
Durability – 50 Million Keystroke
It's been tested on over 50 million keystrokes that the durock Daybreak silent linear switches have long durability. As a result, they're an ideal choice for gaming enthusiasts and everyday users who want to type quietly. Furthermore, compared to other brands with silicone contacts, these switches have gold-plated contacts, which provide even more smoothness.
Noise Level – No Click
Due to a sound-dampening stem silencer, durock has a relatively low noise level. As with Alpacas and U4, it has a similar noise level, though its tactility is a bit stronger than U4. For a quieter typing experience, the switches feature clear housings and patented silent tactile stems.
Gaming Comparison – Perfect
Gaming is a great application for Durock Daybreak Silent Linear Switches. Furthermore, the keystroke is smooth and consistent, and the operation is quiet so that it won't distract you or your teammates. Also, their housing is polycarbonate on top and nylon PA on the bottom for added durability. Furthermore, games are ideal for these switches because they have a relatively low actuation force of just 67g.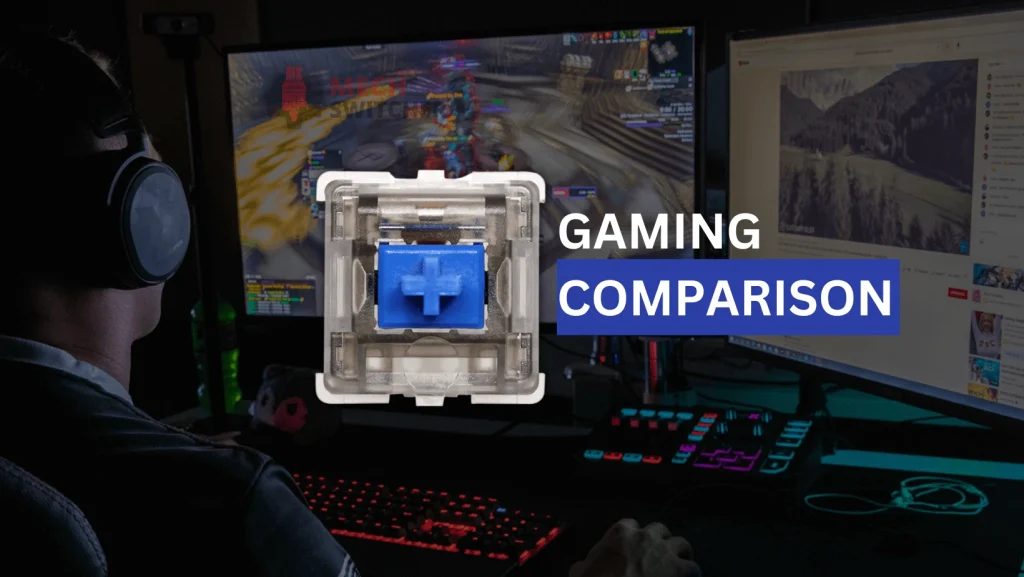 Typing Comparison
A good choice for typing is Durock Daybreak Silent Linear Switches. In addition to providing a smooth and comfortable typing experience, they operate with a consistent force of 67g when actuated and bottomed out. Additionally, the dampening pads on the switch stems make them ideal for quiet environments, reducing the noise of pressing keys. They're also rated for up to 50 million keystrokes, which makes them extremely reliable and durable.
Smoothness
Daybreak Silent Linear Switches from Durock are known for their smooth operation. They operate with a moderate force of 67g, which ensures a smooth keypress. Moreover, they feature silencing pads on both the stems' top and bottom, which help create a smoother process by dampening the switch's sound.
Build Quality
The build quality of Daybreak silent switches is unsurpassed. Their stem is made of POM plastic, and the spring is gold-plated, providing a smooth and consistent typing experience. In fact, the gold-plated springs ensure the switch will remain consistent and accurate for a long time. In combination, these two components provide a reliable and consistent switch for a long time.
Should You Get it?
The overall switch performance, feel, and sound is right as rain for use by their actuation force and travel distance. In addition, Daybreak silent linear switches are the most popular because of their higher actuation force. Due to their travel distance, this switch is a 2 in 1 pack for gamers and fast typists. RGB silent red and black switches travel 3.4mm in total and have the same pre-travel distance (2mm). As such, if you choose Daybreak, which is a great option after a few days, you must effectively manage it.
What are Durock Dolphin Silent Linear Switches?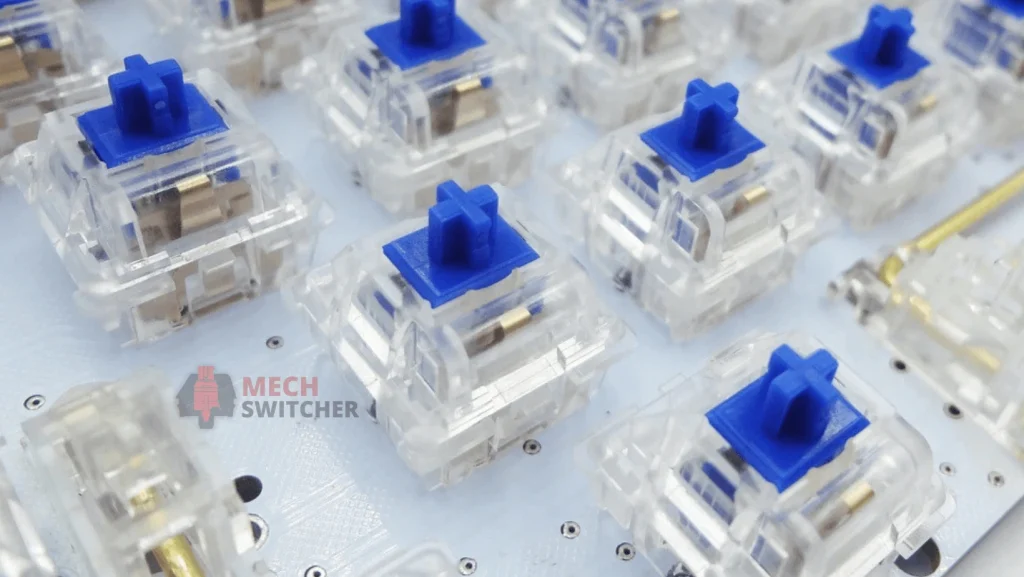 If you don't like the sound of high-pitched switches, the Dolphin is ideal for you. After all, the stem of the Dolphin is in Pantone 19-4052 Classic Blue, chosen as the Color of the Year 2020. These products belong to the future, and Durock Dolphin is important. Its innovative design and forward-thinking attitude make it an excellent choice for our customers.
Pros
 This keyboard is extremely quiet so that you can type more comfortably.
A durable and long-lasting housing made of polycarbonate and nylon polyamide. 
62g of actuation force, you can type smoothly and controllably.
The gold-plated contact is more responsive and reduces debounce. 
Friction-reducing stem material. 
Cons
Quiet expensive like Daybreak silent linear switches
Not swiftly findable silent linear switch
They're too light and too stiff, making the difficult typing experience
Characteristics of Durock Dolphin Silent Linear Switches
There are the following crucial characteristics of Dolphin silent switches that make you electing decisions such as;
Actuation Force – 62g
The actuation force of a Durock Dolphin Silent Linear Switch is 62g. Also, the actuation force of these switches is slightly heavier than most other linear switches, making them medium-weight switches. And, It's a bottom-out force of 67 grams.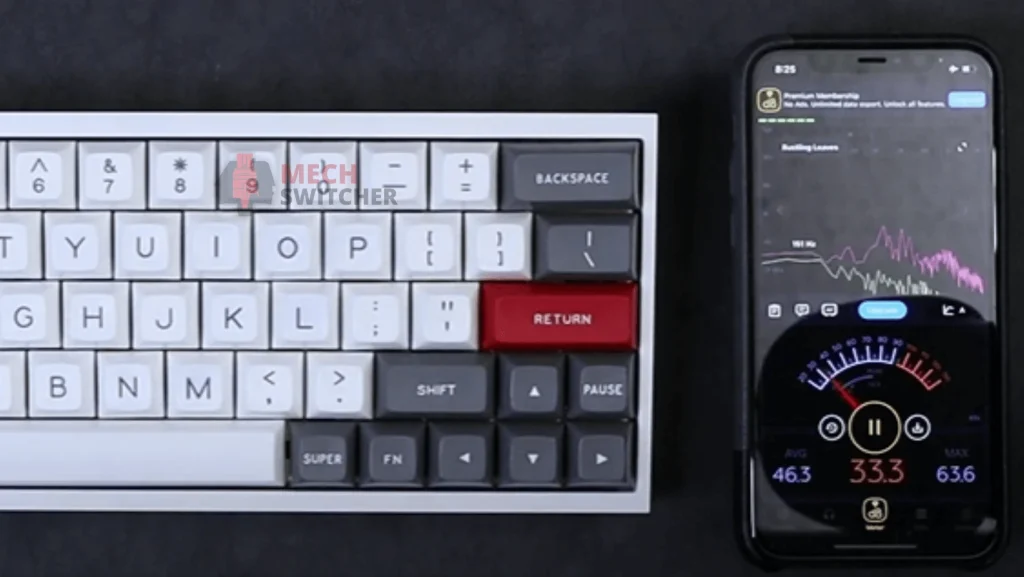 Travel Distance – 2mm to 3.8mm
The pre-travel distance between both silent switches is the same 2mm but the total travel distance is slightly lower than daybreak which are 3.8mm. 
Durability – 50 Million Keystroke
Durock Dolphin switches have a high degree of durability and reliability. High-quality metal materials ensure that they will last for a long time and are resistant to wear and tear. Furthermore, the switches are designed to resist dust, so dust should not significantly degrade their performance with 50 million keystroke lifespan.
Sound Level – Noiseless
Its linear siblings, Daybreak switches, provide a different key-pressing sound than Dolphin silent switches. Also, a dampener on the side of the switch makes it extremely quiet.
It's also perfect for gaming in the dark or working late at night with Dolphin silent switches. In addition, this is the silent alpaca recolor. The same awesome sound in a new color! 67g springs for Durock silent switches, patented stems, and silicone silent circles.
Gaming Comparison – Fantastic
A Durock Dolphin silent linear switch is great for gaming since it provides a smooth, quiet experience that won't distract you. And, their clear housing makes them great for any custom setup, as they are lightweight yet durable.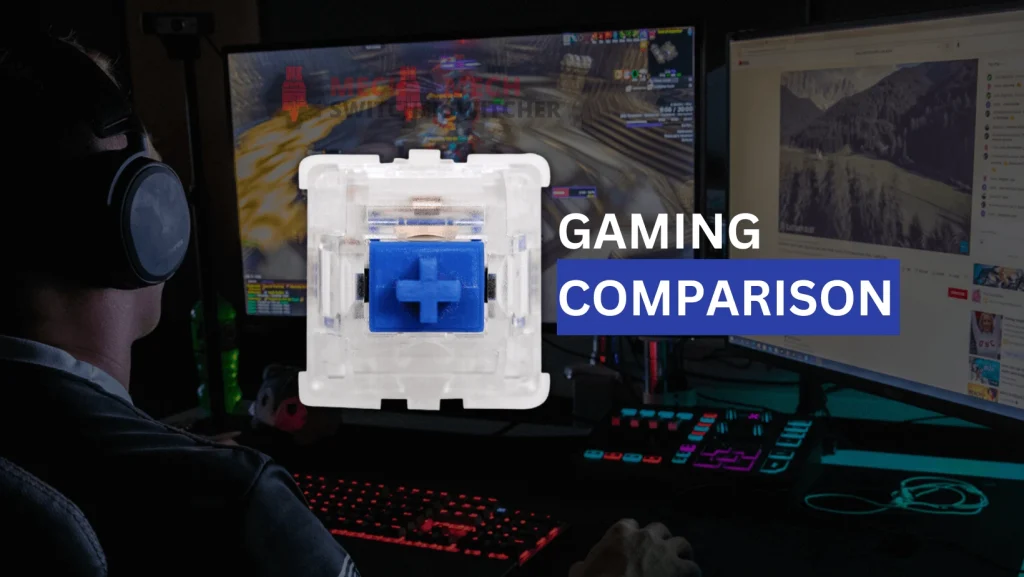 Plus, their 62g actuation force allows them to react quickly in the game, resulting in fast reactions. They are also quieter, thanks to silicon stem silencers, so that you won't be distracted by the sound of your switches. Providing smooth, quiet, and responsive performance, Durock Dolphins make a great choice for gaming.
Typing Comparison
There is nothing quieter than typing on a Durock Dolphin Silent Linear switch. Gaming and typing are made easier with their linear actuation and tactile bump. The Durock Dolphin offers a slightly heavier actuation force than Silent Alpaca switches, making it better suited for typing than gaming.
Durock Dolphins are also easier to press due to their slightly higher pre-travel distance. With a slightly heavier actuation force and higher pre-travel distance, Dolphin Silent switches deliver a smooth and quiet typing experience.
Build Quality
It's generally been reported that Dolphin Silent switches are very well built. High-quality switches provide a smooth keystroke. Furthermore, they're designed to be silent, making them ideal for quiet work environments. Due to their 50 million keystroke rating, the switches should last many years.
Worth it or Not?
Compared to Daybreak silent switches, Dolphin silent switches have a different key press feel due to their lower operating force, but they travel the same distance. My favorite switches for gaming are these Dolphin switches, which won't disturb anyone.
Additionally, it gives you a competitive edge while continuing to press keys while playing heavy games without tiring your fingers. In addition, both of them are budget-friendly.
What are the benefits of using Durock Silent Switches?
There are following benefits of durock silent mechanical switches;
Their extremely quiet operation reduces the noise produced when typing or gaming.
Gaming and typing are both made easier by their smooth, linear feel.
Their durability rating is high and designed to last for a long time.
Cherry MX switches are compatible with them, making installation and use easy.
As a result, you'll enjoy typing or gaming with consistent, reliable performance.
Durock Daybreak VS Dolphin SIlent linear switches
There are some similarities and some differences between Daybreak and Durock Dolphin linear switches.
As a silent linear switch, Dolphin produces very little sound when pressed. This slider operates at 62g with a total travel distance of 3.6mm, an actuation point of 1.8mm, and an actuation force of 1.8mm.
The Daybreak switch have a slightly higher operating force of 67g. Its characteristics include an operating force of 67g and a total travel distance of 4mm.
With smooth linear action and minimal sound, both switches are great options for those who prefer a quieter typing experience. There is, however, a slight difference in operating force between the Dolphin switch and the Zebra switch, which some people may prefer. It is also better suited for certain types of gaming because the Daybreak switch has a higher actuation point.
FAQ – FREQUENTLY ASKED QUESTIONS
The Bottom Line
If you want a linear switch that is quiet and satisfying, Silent Switches are the best choice. Silent stems and silicone circles around the stem are patent pending.
In fact, the switch has a smooth, linear feel and low actuation force, which makes it perfect for gaming, typing, and everyday use. As well as being highly reliable and durable, they make a great long-term switch.