GATERON LINEAR SWITCHES – UNLIMITED GUIDE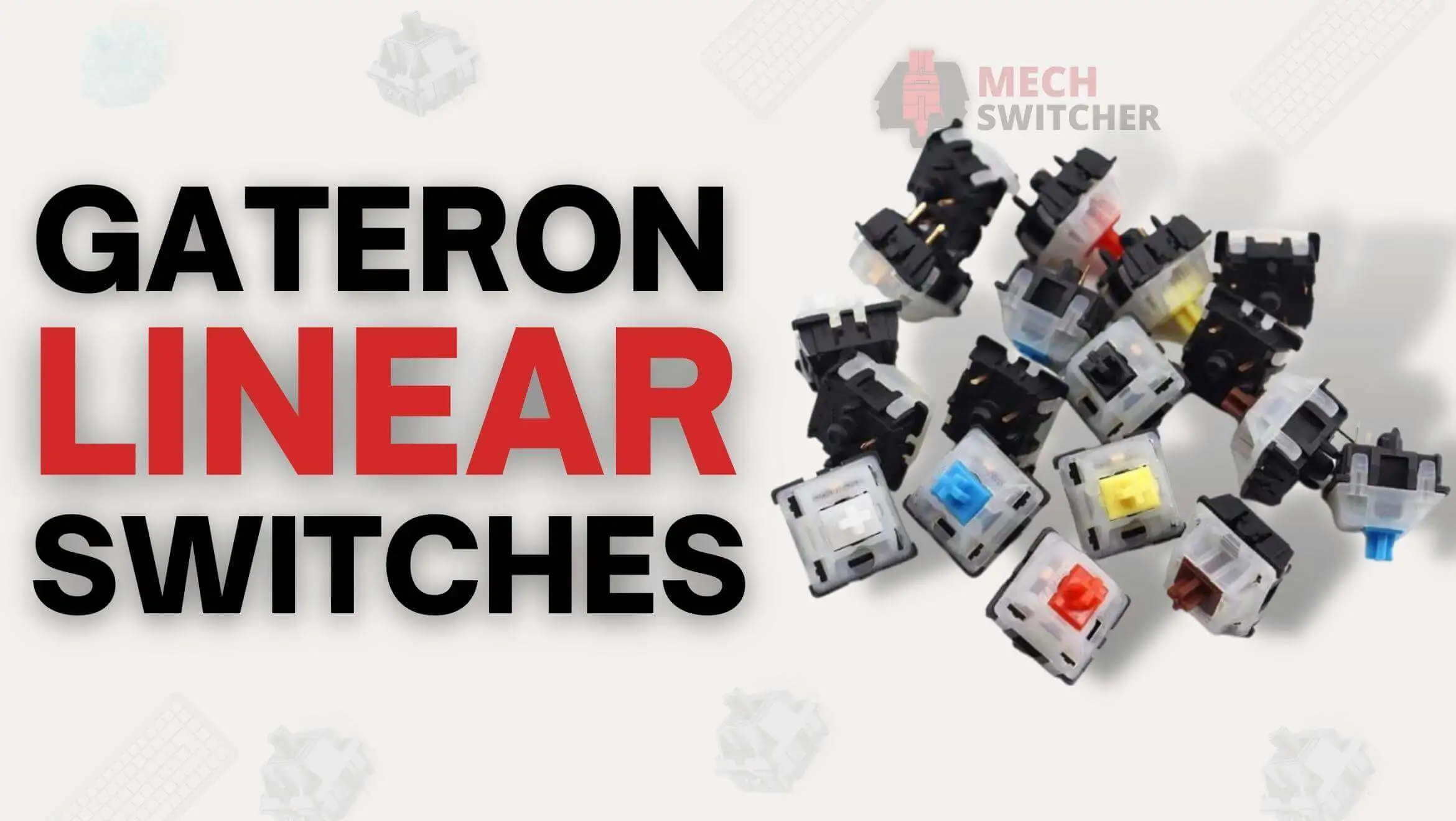 After Cherry MX linear switches, it might not be very clear for newbies. What are gateron linear switches? The Gateron switch is known for its smooth stroke and has been on the market for years. Further, it enhances keystrokes performance with great linear mechanical switches for smooth typing, gaming, and general usage.
Gateron manufactures the best mechanical switches, like linear, tactile, or clicky ones. So, I'll discuss all the best gateron mechanical linear switches after a long time of testing by me or professional gamers and help you find the right rain option by performance.
What are Gateron Linear Switches?
There's no doubt that Gateron switches have exceptional stroke smoothness. Also, Gateron switches are guaranteed to last for 50 million keystrokes regardless of their type, and linear mechanical switches can rest assured that gaming and typing have a super smooth experience.
In this blog, dozens of gateron are available in different colors, and people are sick as a parrot while choosing gateron mechanical switches. There is a detailed comparison of all gateron keyboard linear switches.
Gateron Red Linear Switches
Gateron Red switches demand many people with classic feel and regard it as the best alternative for typing and gaming experience than tactile or clicky.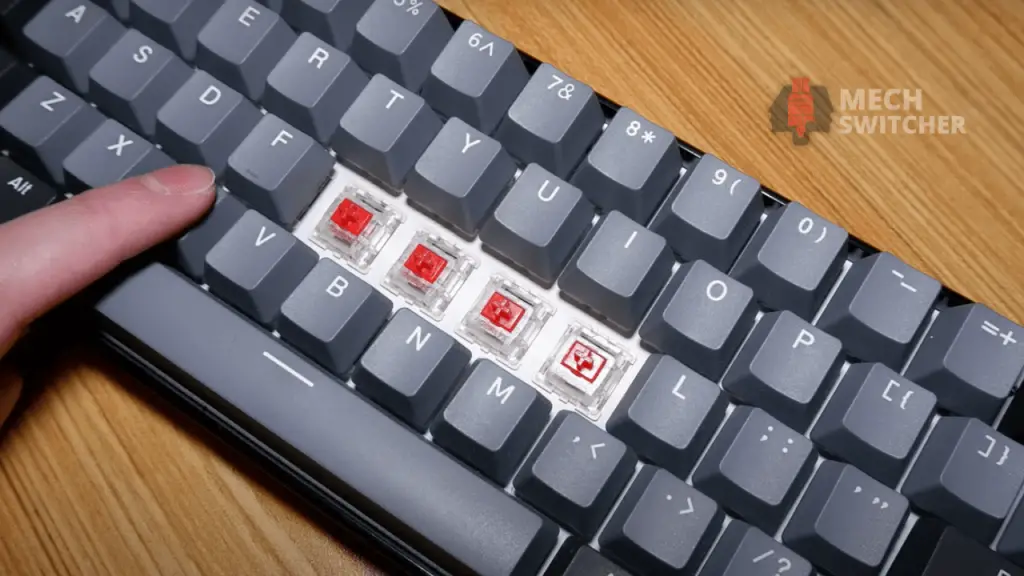 These popular switches come with mostly linear keyboards due to the quieter noise on each key press. Plus, the pressure is light, more moderate, and prolonged periods for general use because they'll not feel tired.
Also, the operating force of red linear switches is about 45 gf. Furthermore, the moderately light actuation force makes it ideal and optimal for gaming with fast speed and increasing response time. As a result, the keys can be executed promptly.
Advantages of Red Linear switches
There are following advantages you feel with gateron linear such as;
Optimal for heavy gaming, typing, and daily use
Produce quiet sound without bump feel
Light actuation force (45 g) makes it less finger strain
Light pressing force
Soft rebound
Vertical pressing feel
Gateron Ink Black Linear Switches
Gateron black switches come with strong feedback and prefer super smooth or stiff feedback sound by Gateron manufacturers. In addition, the Gateron black linear switch has a higher operating force than the Gateron linear switch, which is about 60 gf.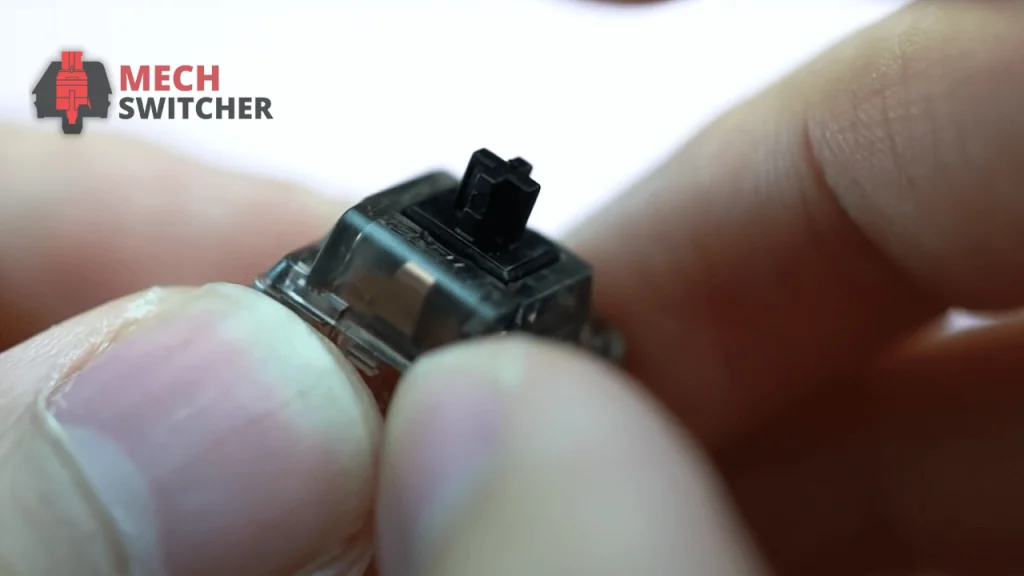 In addition, Strong actuation forces result in more pressure and mechanical feedback. Plus, those who like to use linear mechanical switches with strong trigger force and require more force to activate will likely prefer the Gateron black switch. Also, they provide a smooth key feel and are good for gaming or typing. After much use, the Gateron black linear switches might be an ideal pick for you.
Advantages of Black linear switches
While using these mechanical switches, you feel several advantages, such as;
Black linear switches have a 60 g actuation force
Strong vertical pressing feel
Produce medium sound and feeling
Suitable for gaming and typing
Travel distance is 2 mm
Gateron Yellow Linear Switches
After testing and researching, the Gateron yellow linear switches operating force is about 50 gf, which is straight higher than Gateron mechanical switches and requires a little more pressure to trigger.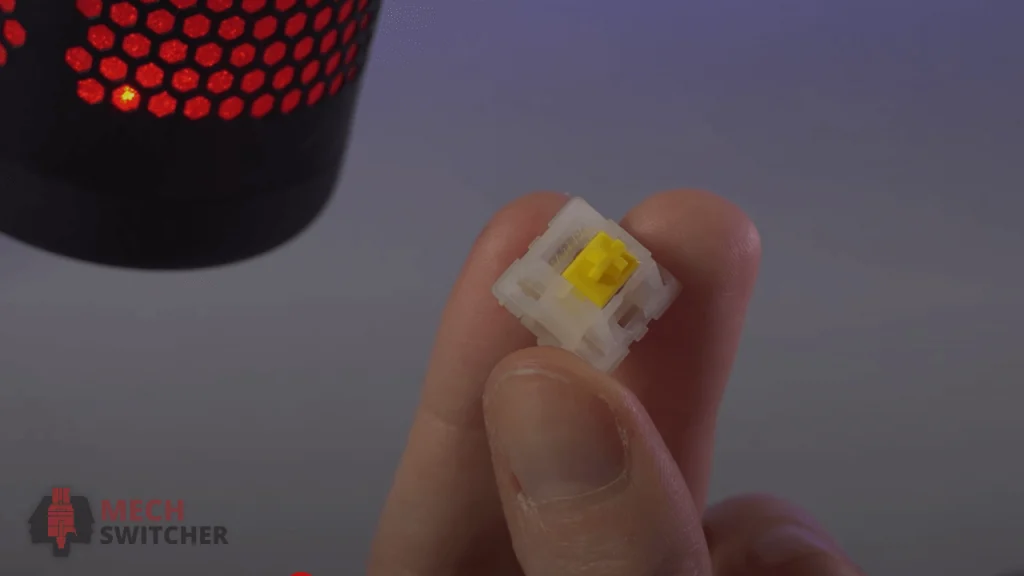 As a result, there's a noticeably different feel and right-as-rain features compared to red linear switches. These switches are heavier than red switches and more forceful.
After all, lubing the yellow linear switches makes it fully silent and satisfying softness. And, you feel wonderful typing experience pleasant. The yellow variant of gateron switches has little resistance, in contrast to the black variant. A Gateron yellow switch with a medium resistance lies between these two switches.
Advantages of Yellow Linear switches
With these switches, typing is more comfortable than with a regular keyboard.
They can provide a medium resistance level compared to other linear switches.
Yellow Gateron switches have a moderate pressing force
Relatively quiet linear switches.
Budget-friendly linear switches.
Gateron White Linear Switches
Among gateron linear, white mechanical switches have the lightest actuation force due to 35 gf operating force. While keys were pressed, they triggered with light force, which made it effortless than other mechanical switches.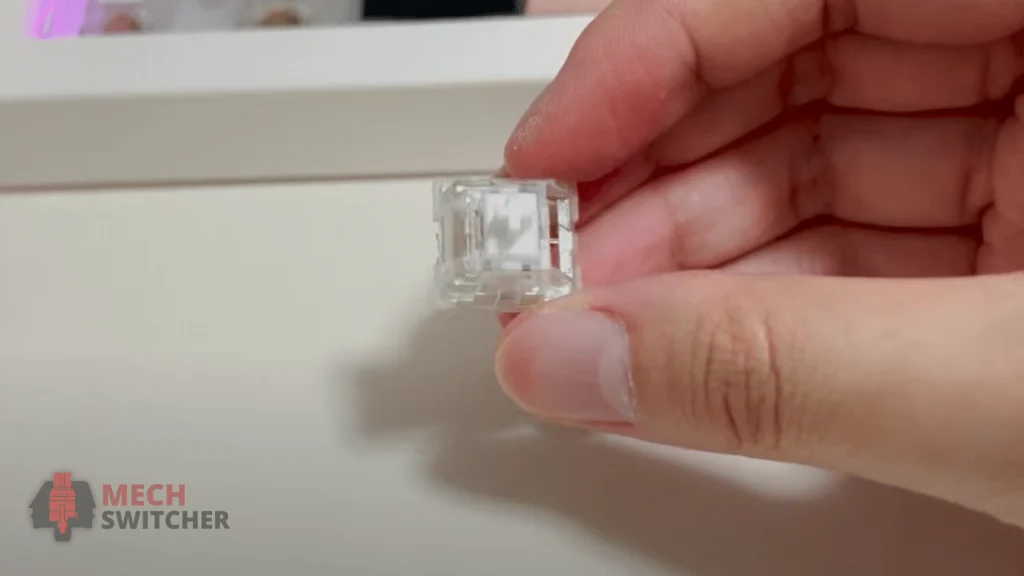 However, white linear switches bite at the cherry option who can't type with heavy keystroke force and want a noiseless Gateron linear switch.
The feeling of softness and lack of tactile feedback is common when shifting white switches after using tactile and clicky switches because Gateron white switches have too little pressure to trigger the key and provide a rain feeling to typing and general use.
Advantages of White Linear switches
Soft touch or feel during a key press.
Lighter than Gateron red linear mechanical switches.
Quietly operate a linear switch
Travel distance is 2mm
Pressing force very much light
Good for typing and daily using only
Gateron Cap Yellow Linear Switches
There is about 50 gf of operating force, like the Gateron yellow linear switches, as well as the Cap golden, yellow, and milky yellow mechanical switches.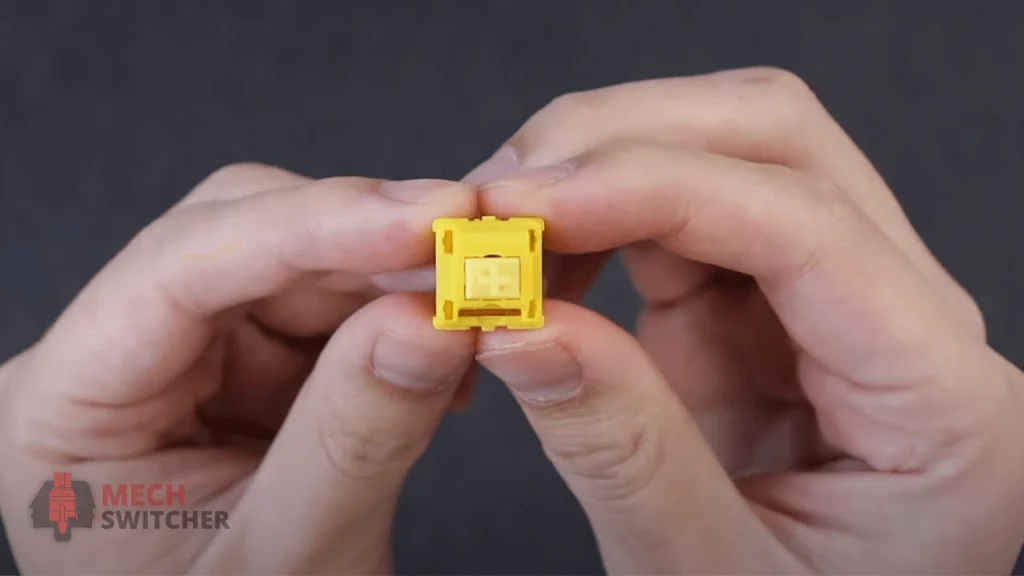 Compared to yellow linear switches, these have a different feel and sound. The design manufacturing system makes typing sound better than ever, making each keystroke feel smooth, natural, and enjoyable.
Advantages of White Linear switches
Color of the cap yellow switches attractive
Travel distance 2mm actuation and bottom 4mm
Provide a natural and pleasant feel while typing
Low-lit sound is better than yellow linear switches
Pre-lubed linear switches don't need to lube
Comes without tactile feed and the smoothest keystroke
Suitable for typing and general usage
Which should I get, the Cherry vs. Gateron linear switch?
After knowing Gateron, and need clarification about which topic to consider to enhance performance and be good for future use. Firstly, let me clarify, Gateron switches have a great invocation and won't strain your pocket, while Cherry mechanical switches are known for their quality and brand history. Also, deep check Cherry and Gateron linear switch's smoothness, keystroke feel, and newbie friendly.
The smoothness of Linear switches
Different companies provide different smoothness in their linear switches while manufacturing. So, Gateron linear switches are a slightly smoother switch type compared to Cherry switches. On the other hand, when you start using Cherry switches, you'll notice they're more stiff and resistant, but most people like a stiff or resistant feel. I prefer the smoothness of switches because, in linear cases, smoothness matters most to increase performance while gaming and typing.
Keystroke Feel
In contrast to Cherrys, Gaterons hold lower actuation yet feel consistent, whereas Cherrys hold higher actuation yet are lighter. The Gateron switch feels smoother and more natural than the Cherry switch. Gateron produces slightly less noise than Cherry because the keystroke is smoother, and there is less friction.
Furthermore, Gateron has recently launched several brands of new switch series that can be customized. Plus, both switch stems work the same way, but Cherry's stem fits tighter, giving the user a stiffer feel. A Cherry switch housing bottom reduces wobbliness, making you feel more secure and stable.
Newbie friendly
In the gaming community, professional players recommend tactile switches over linear switches for beginners. However, yellow Gateron win over Gateron mechanical switches. Ultimately, I recommend yellow gateron primarily for those who're just starting with linear.
It's impossible to enhance performance by using Cherry linear switches for newbies. Gateron mechanical switches are the best choice if you like most linear mechanical switches since they also satisfy newbies.
Qualities
Newbies become sick as parrots in front of several options of linear switches. Finding outstanding linear switches required a deep check.
Check sound and Smoothness.
You can identify linear switches by listening to their sound. According to the previous paragraph, even though there is a slight click sound below it, the linear switch is almost undetectable compared to the other switches. Clicky switches are usually loud and bumpy, which is the most obvious indicator.
Linear switches are known for their smoothness. The smoothness of a linear switch distinguishes it from others. It uses a light actuation force, compared to tactile and clicky switches, doing typing and playing seamlessly.
Check Operating Force
In addition to the operation force, the feel of keyboard switches can sometimes differ due to subtle force variations. The Gateron red and yellow switches have 45 grams of a force of operation. The Gateron white switch has 35 grams of a force of operation, etc. Gateron white switches offer a lighter triggering feel and a softer touch. Remember to check the operation force of the linear switches you choose when choosing your ideal linear switches.
FAQ – FREQUENTLY ASKED QUESTIONS
Final Thoughts
After this guide, you'll efficiently find perfect linear switches by performance, and they're all switches used for gaming and typing. But the red switches are optimized for gaming and provide smoothies without a tactile bump and noiseless mechanical switches. And, if you want newbie-friendly linear switches, then the right as rain option than Cherry linear switches.