WHAT ARE LINEAR SWITCHES? – A COMPLETE GUIDE FOR YOU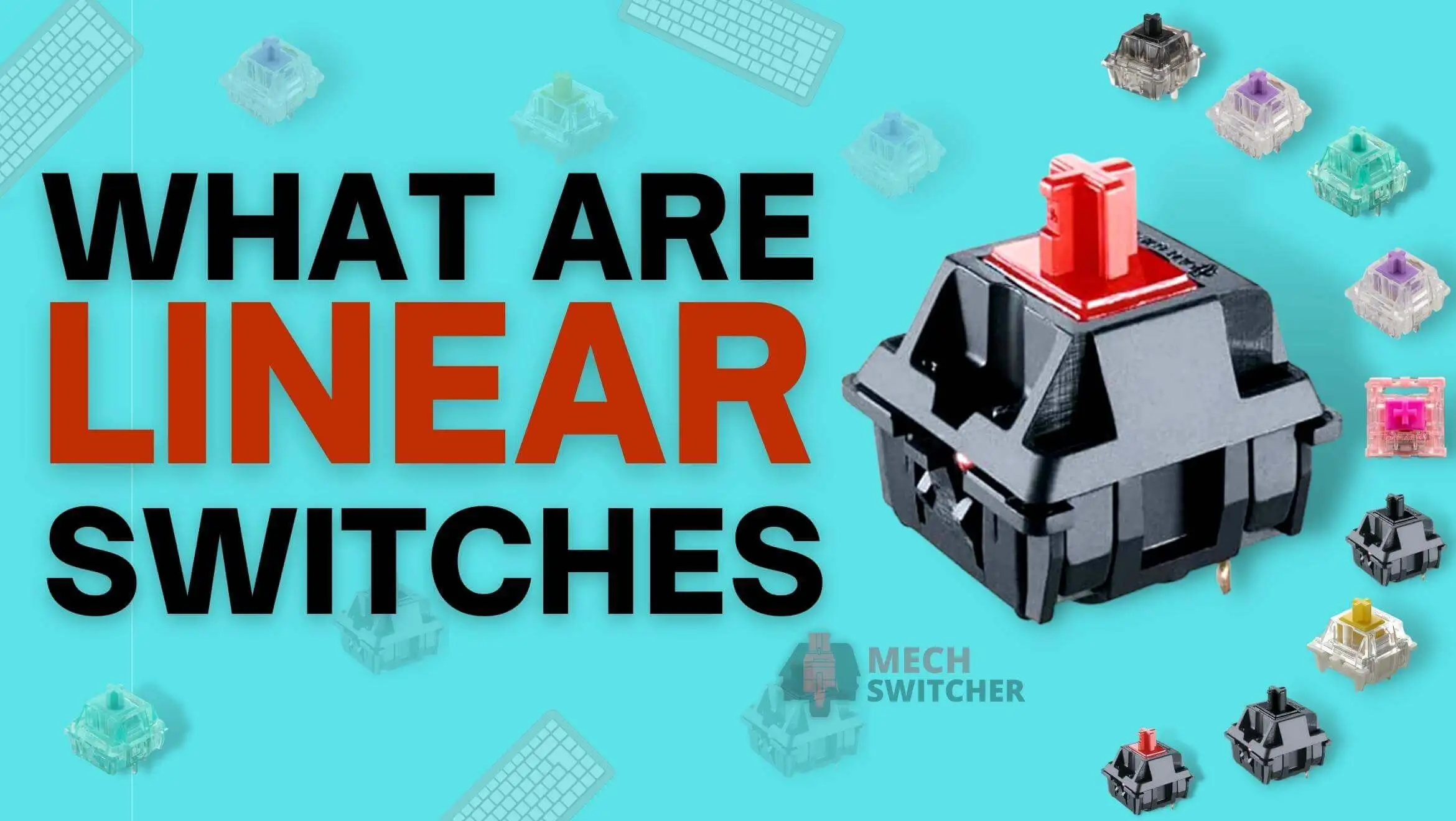 Professional gamers, streamers, and programmers go with mechanical linear switches for a better keyboard experience, versatility, durability, and responsiveness than simple keyboards. On the other hand, it isn't easy to understand different mechanical switches, such as linear, tactile, and clicky switches. So, here is a brief discussion of what are linear switches? Clarification of mechanical switch types.
What are Linear Switches, and What do they do?
Linear switches are smooth as butter-type mechanical switches, with a consistent bump-free feel on every keypress, and easy actuation without tactile feedback. Linear switch designed for the public that increases response time and reduces speed without making much noise or causing any bumps.
Multiple colors available in linear switches, and red colors are often found. Furthermore, in highly competitive games, the consistent keystroke is used by gamers and gives smooth typing flows among programmers or fast typists. Check out these advantages for even more peace of mind.
| Advantages of Linear Switches | Disadvantages of Linear Switches |
| --- | --- |
| Smooth, bump-free feel | Reduced accuracy through. |
| Quiet noise while keypress | No tactile feedback |
| Increase speed and response time | |
| Consistent Keystroke | |
| Soft-touch | |
| Considering the best for gaming | |
All Components of Linear Switches
In linear switches, there are several components that provide resistance level, actuation force, bump-free feel without tactile feedback, and noiseless operation, such as the following. In fact, after lubing linear switches components make it good for typing and much more.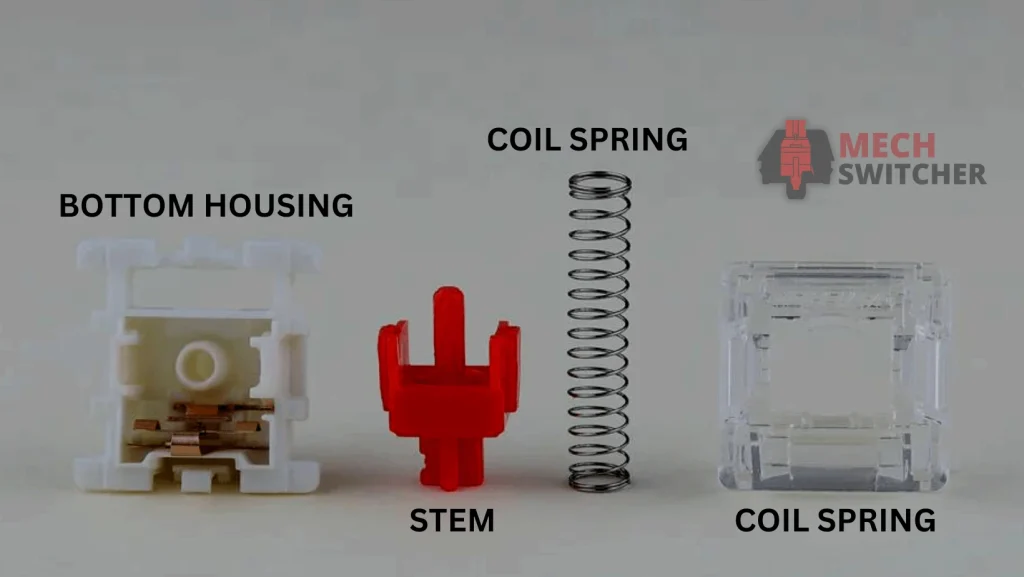 Stem: The stem of a linear switch is an essential part of its operation, and it comes in colors such as red, yellow, black, and others. Unlike linear switches, consoles have spring coils, which do not produce noise. Silent switches on these stems are padded with rubber and only clicky jackets are available for these stems.
Upper Housing: An upper housing component protects and guides the stem. A slider controls all the moving parts of the upper switch housing. Pressing a key, however, causes the keycaps to strike the upper housing.
Coil Spring: The coil spring of linear switches controls the stem and produces resistance actuation force without tactile feedback or noise. There is also a difference between activating a key and actuating it. In addition to providing resistance, the coil spring resets the key.
Metal Leaves: Linear switches use two metallic or gold pieces in contact with each other to detect key presses.
Base Housing: Attached here is the upper housing. Clips mount this PCB to this piece. In addition, linear switches usually come with four pins on the bottom housing.
List of Linear Mechanical Switches
| TYPE | BRAND | PRE-TRAVEL (MM) | Total Travel (mm) | Operating Force | Graph |
| --- | --- | --- | --- | --- | --- |
| MX RED | CHERRY | 2.0 | 4.0 | 45cN | |
| MX BLACK | CHERRY | 2.0 | 4.0 | 60cN | |
| MX SILENT RED | CHERRY | 1.9 | 3.7 | 45cN | |
| MX SILENT BLACK | CHERRY | 1.9 | 3.7 | 60cN | |
| MX SPEED SILVER | CHERRY | 1.2 | 3.4 | 45cN | |
| RED | GATERON | 2.0 | 4.0 | 45cN | |
| SILENT RED | GATERON | 2.0 | 4.0 | 45cN | |
| BLACK | GATERON | 2.0 | 4.0 | 60cN | |
| SILENT BLACK | GATERON | 2.0 | 4.0 | 60cN | |
| CLEAR | GATERON | 2.0 | 4.0 | 35cN | |
| TEALIOS 67g | GATERON | UNKNOW | UNKNOW | 67cN | |
| YELLOW | GATERON | 2.0 | 4.0 | 35gf | |
| WHITE | GATERON | 2.0 | 4.0 | 50gf | |
| RED | HYPERX | 1.8 | 3.8 | 45gf | |
| KAILH BLACK | KAIHUA | 2.0 | 4.0 | 60cN | |
| KALIH BOX BLACK | KAIHUA | 1.8 | 3.6 | 60cN | |
| KAIHUA BOX DARK YELLOW | KAIHUA | 1.8 | 3.6 | 70 gf | |
| KALIH BOC RED | KAIHUA | 1.8 | 3.6 | 45gf | |
| KALIH BOX SILENT PINK | KAIHUA | 1.8 | 3.6 | 35gf | |
| KALIH NOVELKEYS CREAM | KAIHUA | 2.0 | 4.0 | 55gf | |
| KALIH PRO BURGUNDAY | KAIHUA | 1.7 | 3.6 | 50gf | |
| KALIH RED | KAIHUA | 1.9 | 4.0 | 50gf | |
| KAILH SILVER SPEED | KAIHUA | 1.1 | 3.5 | 50gf | |
| YELLOW | RAZER | 1.2 | 3.5 | 45gf | |
| EC ROSERY | VARMILO | 2.0 | 4.0 | 55cN | |
| EC ROSERY V2 | VARMILO | 2.0 | 4.0 | 55cN | |
| EC SAKURA | VARMILA | 2.0 | 4.0 | 55cN | |
Most Famous Linear Mechanical Switches
So, the following types of linear switches can easily be found because these switches are mostly used for newbies, fast typists, and professional gamers. Let your hair down and find as right as rain linear mechanical switches to increase performance and enter the linear keyboard world.
Gateron Yellow Linear Switches
Gateron Ink Black Linear Switches
MX Speed Silver Switches
MX Red Linear Switches
Yellow Gateron Linear Switches
Gateron Yellow linear switches are the favorite mechanical switches and entry doors for newbies to starting with linear, because they offer a much more comfortable experience, versatility, and responsiveness than standard keyboards. On the other hand, gateron red switches similar than yellow switches
However, yellow linear switches are designed with low resistance levels to make it easier for beginners to operate linear mechanical switches.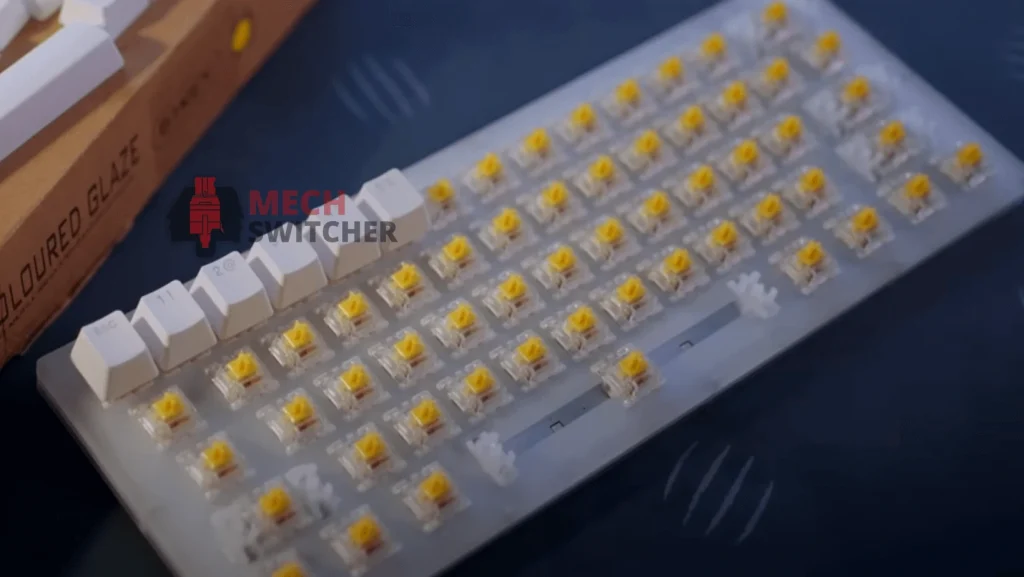 Unlike, gateron black linear switches are good for beginners, but after testing, the resistance level is higher than yellow switches. Furthermore, Gateron yellow switches are as cheap as chip mechanical linear switches. And the stem shape or coil spring makes it lower resistance than cherry MX red and speed silver.
Gateron Ink Black Linear Switches
Another famous linear switch is Gateron Ink black linear switch, manufactured for the public who want the type with linear switches.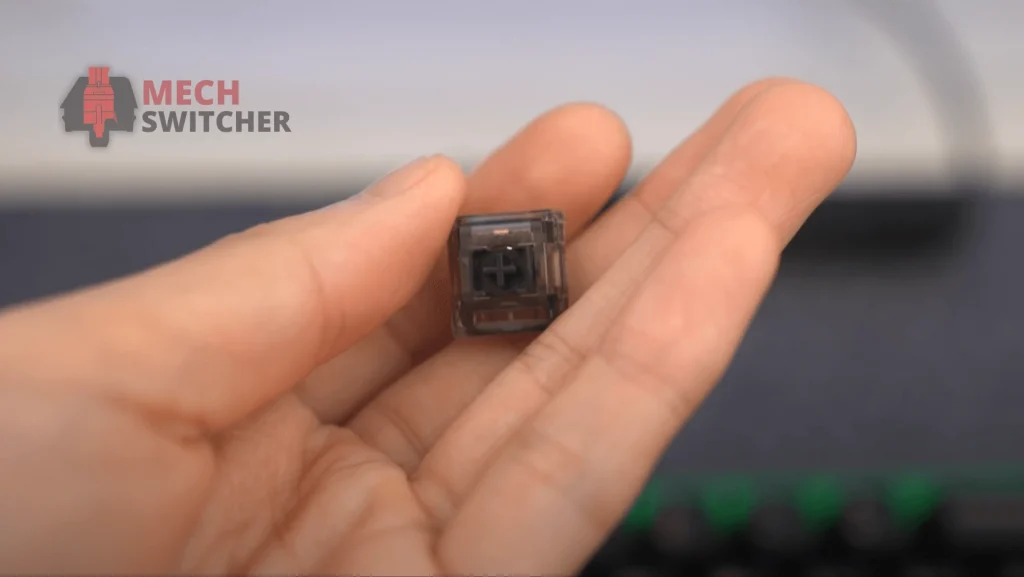 Because people type a lot and want a smooth feeling on the keyboard, Gateron Ink Black linear switches use different dedicated plastic features to improve the typing experience.
Cherry MX Speed Silver Switches
Speed silver MX switches are famous and ideal gaming mechanical switches. Because of the actuation feedback and quick response.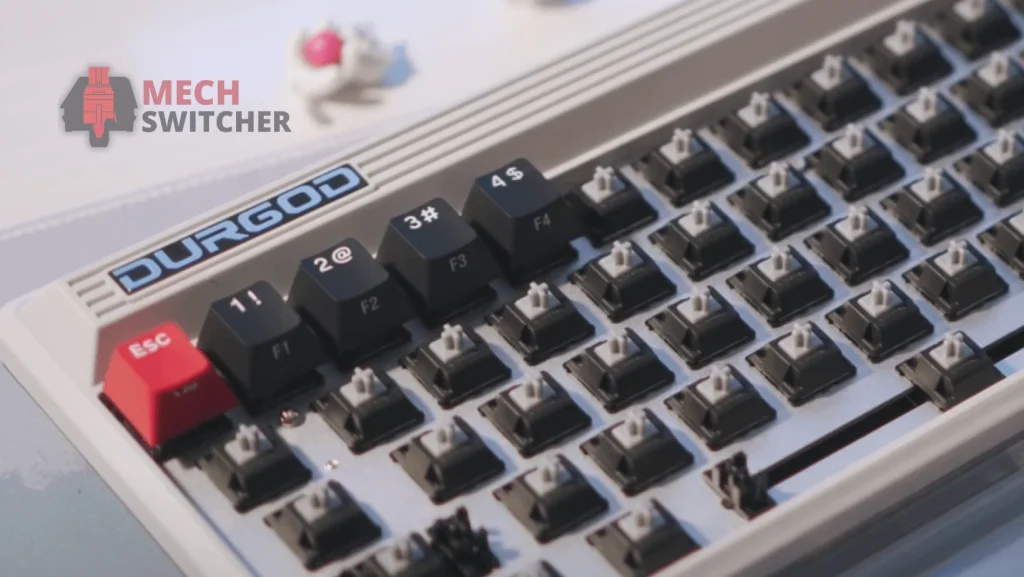 After testing, you feel an edge over all types of linear switches and mechanical switches while playing, increasing the gaming experience and response time. On the other hand, these linear switches aren't optimal for typing due to responsive time.
MX Red Linear Switches
As compared to other types of switches, red linear switches are the most famous, since the red stems increase ability without tactile feedback or quiet sound. Red linear switches are next best for gaming. This means you cannot start a career with red linear switches.
Other Popular Linear Switches
Below are some of the most popular linear switches. Programmers, gamers, and fast typers love these switches.
Alpaca V2 Switches
Cherry MX Silent Red Switches
Cherry MX Red Switches
Kailh Red switches
Kailh Black switches
Novel Key Cream switches
Durock POM switches
Cherry MX speed silver Switches
Cherry MX Black
MX low Profile Speed
Gateron speed silver pro
C3 tangerine Switches
Gateron Yellow switches
Gateron Ink Black switches
Correctly identify a Linear Switch.
Understanding the mechanical switches is complex. Although, identifying the linear switches is uncomplicated than the tactile or clicky mechanical switches. There are two significant differences to consider in the linear switch.
Tactility: A linear switch has no tactile bump pressing the key. It's likely a linear switch because the bottom comes out when you tap on a linear switch, and no bump feels with these mechanical switches. With this mechanical keyboard, you can type faster and smoother due to the lack of tactile feedback.
Sound: Linear are noiseless mechanical switches, producing a quiet noise when a key is pressed. These switches can easily be found by their sound because tactile switches have moderate sound, and clicky switches have loud noise when you tap on them.
How to Install Linear Switches?
Here I give you a fast, straight, and easy way to install the mechanical linear switches on the hot swapper keyboard, which is designed to allow switches to be removed and installed quickly and easily. Moreover, fancy changing the switches in mechanical keyboard for new feel and sound, switches are budget friendly than mechanical keyboard.
Getter the Tools:
Two simple tools are required to remove switches on the hot-swappable keyboard. Without these tools, you can easily damage all keycaps and switches when removing them.
Required a switch puller to remove the old switches.
Remove keycaps with a keycap puller.
The non-hot-swappable keyboard (soldered switches keyboard) also required the following tools such as.
Soldering iron
Solder sucker (solder jump)
Soldering accessories
Removing Old Keycaps:
Put the key puller over the switch and try to pull them straight up. Please only do it slowly when you remove the keycaps on the switch. You can also follow these tips to avoid damaging the switches: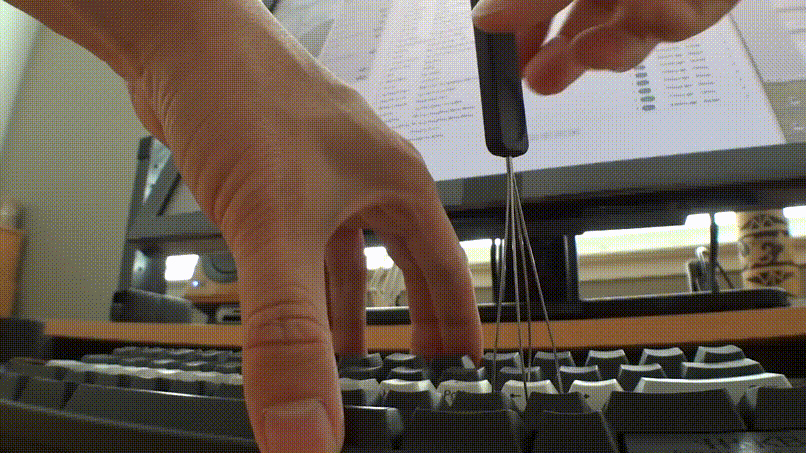 To make putting keycaps back on slightly more accessible and faster, keep them in the order you took them off!
As you pull keycaps, gently wiggle the keycap puller back and forth.
While keycaps are pulled, sometimes switches come out. Stay calm, slightly off the keycap of the switch.
Pull out the Old Switches:
Now pluck out the hot-swapper keyboard switches after removing the keycaps. Next, it's time to use a switch puller to remove switches quickly and easily.
Place the switch puller under two tabs before squeezing, as each switch has a tiny tab at the top and bottom.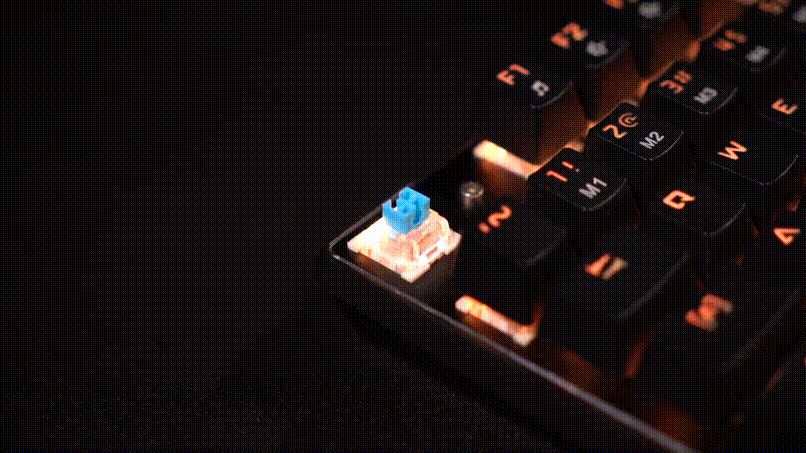 Switch puller pressing tabs, and help you pluck the tabs upward easily.
It was my bad experience pulling out switches for the first time. I've broken a lot of plastic tabs and scratched up some plates, which is quite challenging for me. But good practice makes you perfect. So, for doing this practice for the first time, there are the following tips below.
Step 1: Avoid using metal switch pullers. They can scratch the PCB plates. So instead, using a stainless steel switch puller for pulling the switches because it's a sensitive moment.
Step 2: Gently wiggle the switches before pulling them out.
How do pull-out switches without tools?
My recommendation, take a switch puller for this part. My friend who lives next door to me uses some tools other than a switch puller to remove the keyboard switches.
Using two guitar picks to pull switches easily
A flathead screwdriver works fine to remove switches.
For the first time, the switch puller is your first preference. Furthermore, use these tools at your risk because they can damage switches.
Installing the Linear Switches:
When keycaps and switches are out, and the empty hole is showing on the keyboard, you install the linear switches for a better experience. Follow these steps carefully.
Step 1: Before engaging, confirm the two copper pins' direction on the south side and bottom pins. Make sure to align with holes on the printed circuit board (PCB).
Step 2: Make sure the alignment of linear switches is straight down while going into the respective hole.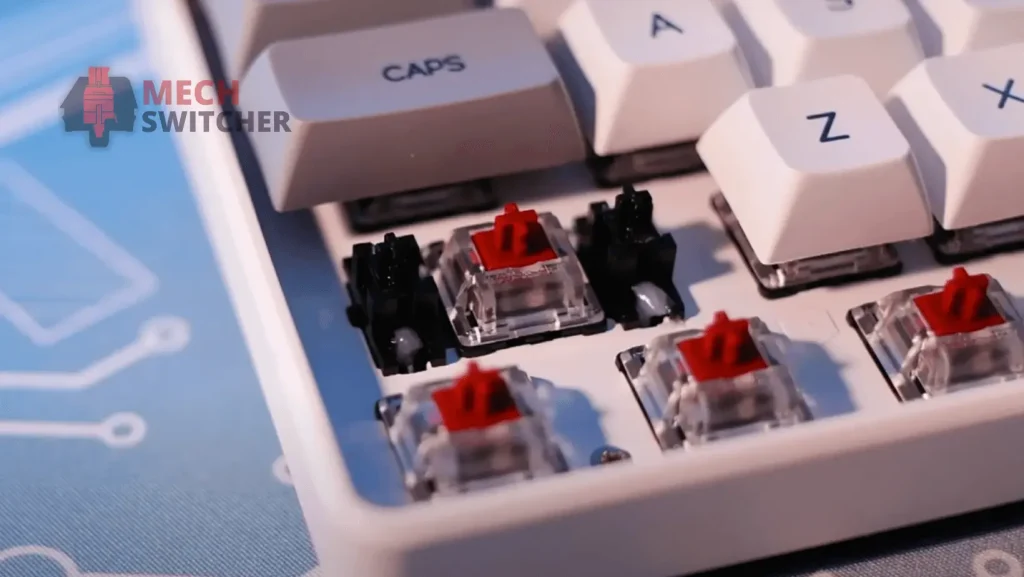 Step 3: Now press the linear switch. It's not hard and fast. Press the switch firmly should you hear a loud, clicky sound.
Step 4: Before pressing the keycaps, the crucial step is to check the switch's working. Many keyboard keys tester websites are the best to check your switches (https://keyboard-test.space).
Step 5: If your linear switch is not working fine, pull out, insert another switch, and check again.
Here is an alert message to protect the linear switch from damage.
TIP: If you note pins bent on a linear switch, you should pluck them out with fingers, a switch puller, and tweezers.
Pressing the Keycaps:
If you remove keycaps in the same order, I recommend you first. So, pressing the keycaps is effortless. Follow these steps carefully.
Press down keycaps over the linear switches firmly and straight.
Tap on the keycaps if they press correctly because sometimes, keycaps start to wiggle slightly.
Are Linear Switches Quiet?
Linear switches are designed to operate quietly and produce no sound and what are linear switches good for. These mechanical switches only produce sound when their springs move up and down. While keypress, you hear the sound of plastic hitting plastic; otherwise, the linear switch is quietest itself. Is there any solution to stop plastic hitting noise? Form pads and O-rings adding into switches, and make sure the keyboard is not touching with keys. These components make your keyboard completely noiseless.
The benefit of Linear Switches
There are the following benefits of linear switches when you install and use them.
Speed-focused users take advantage of linear switches due to their endless or quick ability.
Less resistance capability increases the reaction time of linear switches.
Fingers comfortably glide over the linear switches keyboard during typing.
Quietless and bump-free quality provide much value when you type.
E-sport gamers and fast typists give priority and love the linear switches.
Linear Switches Good for Gaming?
It uses mechanical linear switches, a perfect gaming option that provides smooth movements and speed. Furthermore, it's professionally adjusted among gamers and e-sport players for smooth, efficient effects and consistency.
Although, making double-clicks will be easier because there will be no feedback bump or click leaf to make you doubt it. In general, linear switches are the personal choice of pro gamers rather than tactile and clicky switches.
Linear Switches Good for Typing?
The tactile bump reduces errors and provides an enjoyable feel during typing. But, linear mechanical switches can't provide tactile feedback because they give a bump-free feel. Although switches depend on typing speed, linear switches are suitable for fast typists. Otherwise, the tactile switches are a better option than linear ones for the average typist.
FAQ – FREQUENTLY ASKED QUESTIONS
To Conclude:
Linear mechanical switches are a great option and the best choice for a smooth typing experience. As a gamer, linear switches are my first preference. Noiseless and bump-free quality helps to laser focus in comparative games and manufactures lube enough to provide a seamlessly smooth experience. In addition, for fast typists, linear switches increase keystroke speed and response time during typing.