WHAT ARE JWK EV-00 LINEAR SWITCHES? ALL IN ONE GUIDE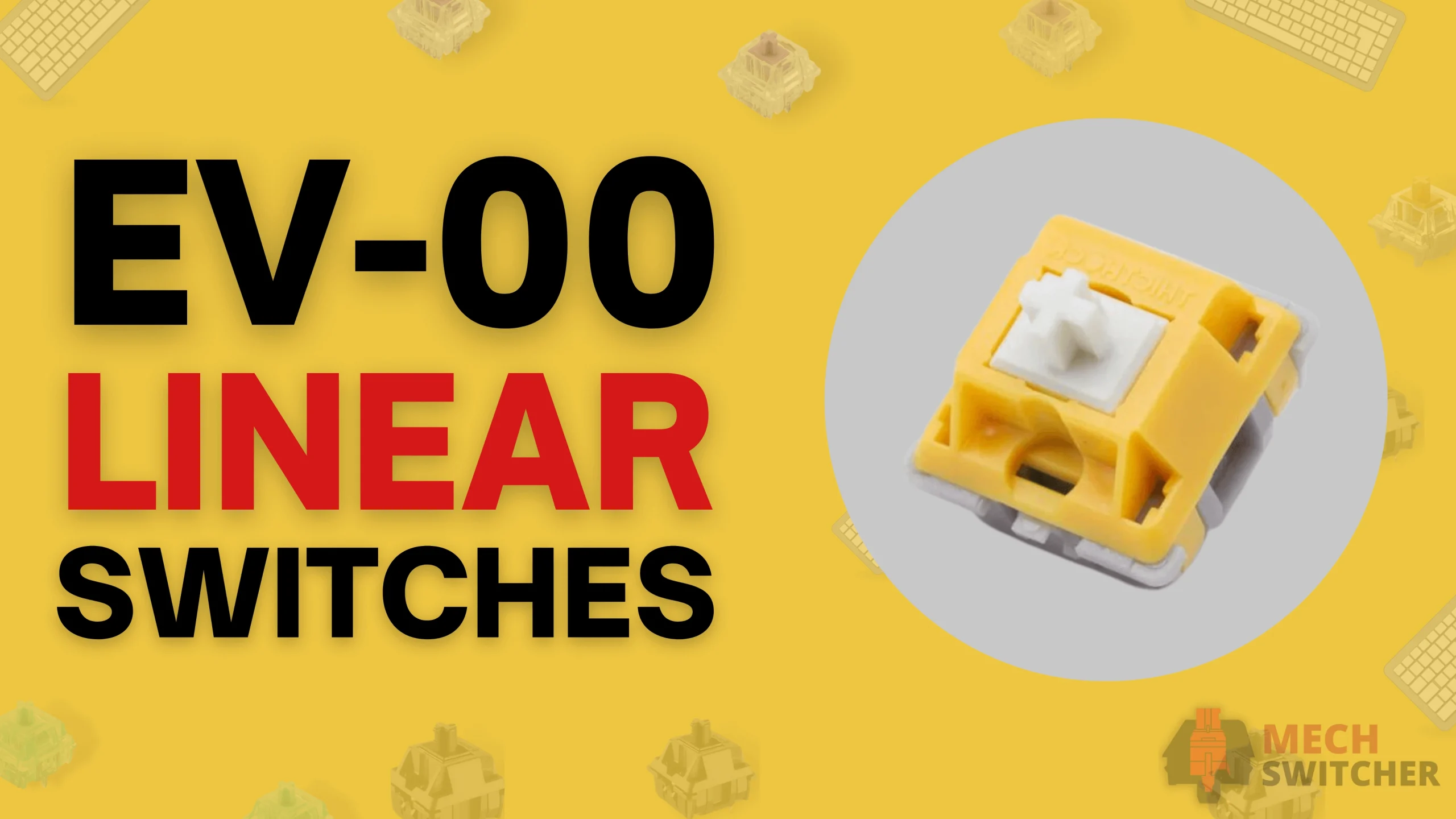 The smoothness and consistency of EV-00 linear switches make them perfect for long typing sessions. They're designed by JWK mechanical switches, which makes them suitable for heavy gaming and typing with excellent keystroke sound. So hold your horse, I've prepared a comprehensive guide on EV-00 mechanical switches to make decisions easy while electing;
What Exactly are EV-00 Linear Switches?
EV 00 switches are a type of mechanical switch. They provide a smooth and consistent feel on each keystroke, the same as other JWK linear switches, H1, or Moss linear switches. After all, while typing, you can't feel any tactile bump or clicky sound compared to brown and blue mechanical switches.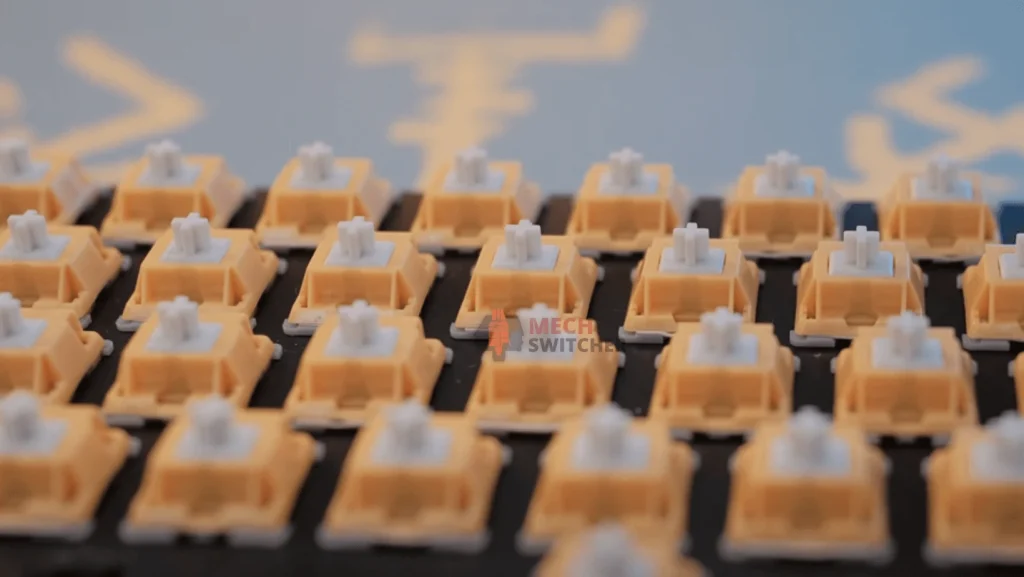 As the final iteration of the EV series of linear switches, they were designed by JWK in collaboration with ThicThock. Furthermore, the ThicThock MP Series 68g Progressive springs are used in these switches. As part of the Berserk keycap set, these switches are also available in a custom hot colorway.
Moreover, the overall keystroke feel of EV 00 linear switches is fantastic. If you're looking for smooth, quiet keystroke mechanical switches, they're right as rain. On the other hand, EV 00 switches offer a high-quality experience at a reasonable price point.
Pros and Cons of EV-00 Linear Switches
After 1 month of testing, I feel there are the following advantages and drawbacks of EV 00 linear switches. You should know these things before electing;
Benefits
Smooth keystroke: EV 00 mechanical switches offer a smooth keystroke feel without click or tactile feedback. After all, the consistent keystroke is perfect for gamers and typos who want a reliable feel across all their key pushes.
Resistance: A 68g actuation force is required for EV 00 switches, slightly higher than other popular switches. This might be a good option if you want your keystrokes to be more resistant.
Durability: High-quality mechanical switches, such as the EV 00, have a lifespan of 50 million keystrokes. Consequently, they will last for several years before wearing out.
Quiet operation: In specific environments where noise is a concern, EV 00 switches produce relatively quiet sounds when pressed.
Drawbacks
Limited availability: EV 00 switches are relatively new compared to other popular switch types. It can be difficult to find replacement switches if you need them.
Higher actuation force: The 68g force may be appreciated by some users but may be too high and exhausting for extended typing sessions or gaming sessions.
Characteristics of EV-00 Linear Switches
Here are some more detailed characteristics of EV 00 linear switches:
| EV-00 MECHANICAL SWITCHES | SPECIFICATION |
| --- | --- |
| Lube | Un-lubed from factory |
| Manufactured By | JWK |
| Actuation Force | 68g |
| Spring | Gold Plated ThicThock 68G MP |
| Total Travel Distance | – |
| Noise Level | Scratchy Quiet |
| Stem Materal | White, POM |
| Top Housing | Dark Yellow, Nylon |
| Bottom Housing | Gray, Nylon |
| Pack | 10 Switches |
| Lifespan | 50 Million |
Keystroke feels – Linear
EV 00 mechanical switches have a linear feel because they offer a smooth keystroke from top to bottom. The non-click sound or tactile bump makes it a good choice for gaming with high keystroke speed without finger strain. And the sound is perfect for typing without frustrating someone.
Actuation Force – 68g
The actuation force of JWK` EV 00 linear switches is 68g, slightly higher than other linear mechanical switches. The actuation force is slightly higher than Moss and Dogikon linear switches. On the other hand, H1 linear switches have higher actuation force compared to EV 00 linear switches. Moreover, the actuation force is happy as Larry for some users, but many people don't like the high actuation force for extended typing sessions or gaming sessions.
Travel Distance – 2mm to 4mm
The pre and total travel distance aren't mentioned of EV 00 linear switches. But as per testing, the pre-travel distance is 2 mm, and the total travel distance is 4mm, similar to other JWK linear switches like Durock POM, dogikon, Moss, and H1 linear switches.
In addition, travel distance indicates how far a keystroke travels before it is registered, which is a perfect indicator of mechanical switches. In addition, most mechanical switches travel the same distance.
Durability – 50 Million
The EV 00 linear switches are rated for 50 million keystrokes. It should take several years for them to wear out after heavy use. Plus, compared to H1 linear switches, they're not pre-lube, but still, they provide the best durability, similar to other linear switches.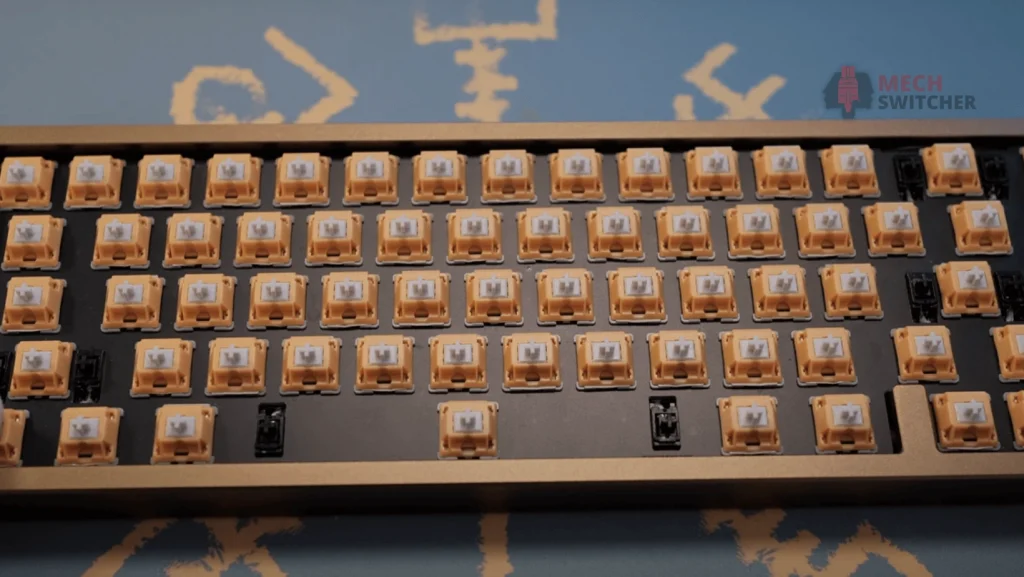 Smoothness
Because of the high-quality materials used in their construction, EV 00 switches are known for their smooth keystrokes. POM (polyoxymethylene) is used for the stem, that make it suitable for heavy gaming and your fingers don't strain on each keystroke while continue pressing.
Sound – Scratchy Quiet
In addition to their smooth, consistent linear feel, EV-00 switches have a variety of sound profiles that can vary depending on their use and maintenance. It is possible to hear a slightly scratchy sound when you press un-lubed EV-00, while lubricated switches provide a smoother and more muted sound.
Furthermore, they can be affected by their housing and plates' material, layout, and typing speeds and forces. Because linear switches lack the tactile bump or click mechanism, they generally produce less noise than tactile or clicky switches.
Gaming & Typing Comparison of EV-00 linear switches
It depends on how you plan to use the switch, whether you want to use it for gaming or typing. For gaming and typing, here are some general comparisons of EV 00 linear switches: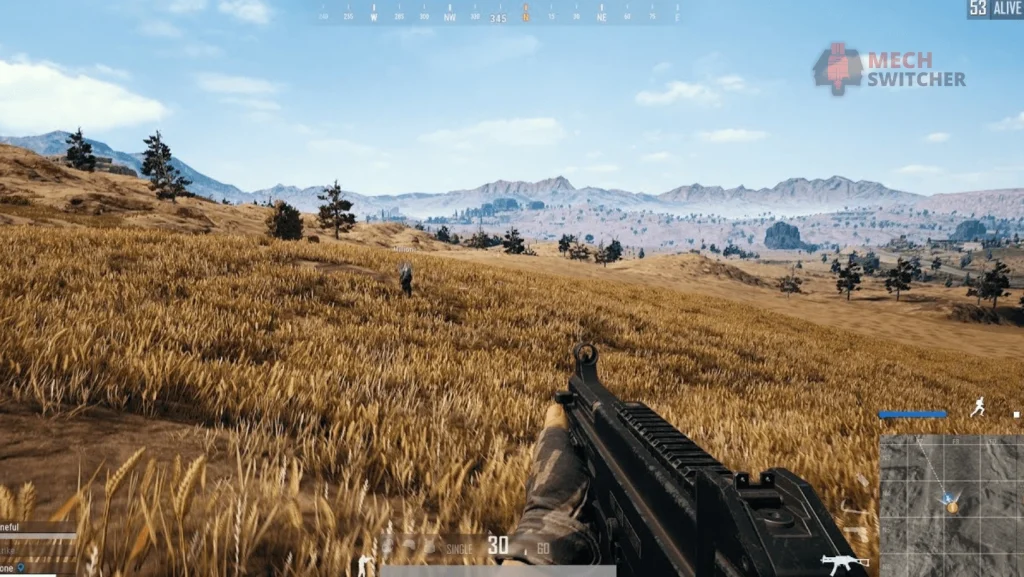 The EV 00 linear switches provide a smooth, consistent keystroke that benefits gaming. As a result, you can input data faster and move more accurately and precisely. Plus, when gaming intensely, EV 00 switches may provide enough resistance to prevent accidental key presses with an actuation force of 68g.
However, the higher actuation force may fatigue some gamers after extended use. Furthermore, a relatively little sound is produced when pressing the EV 00 switch, making it ideal for gaming in quiet environments or if you don't want to disturb others.
Typing can also benefit from EV 00 switches' smooth and consistent keystrokes. If you type this way, you may feel less tired and type faster. And, It may be possible to type accurately without accidentally hitting adjacent keys using the 68g actuation force of the EV 00 switches.
Some typists may find the higher actuation force tiring during extended typing sessions. Moreover, In quiet environments or if you do not wish to disturb others, EV 00 switches produce a relatively quiet sound when pressed.
The EV 00 linear switches bit of resistance while being relatively quiet. It's always a good idea to try out different switch types before deciding on the choice of switch type is subjective and depends on personal preference.
Build Quality of EV-00 Linear Switches
JWK manufactures EV 00 linear keyboard switches. The smooth and consistent keystrokes of these keyboards have made them very popular since their introduction to the market. As for the build quality of EV 00 switches, use high-quality materials designed to last for many years. A polyoxymethylene (POM) stem is used for the switches, which has a low friction rate and is wear-resistant.
Its housing is made of Nylon, a durable material that resists impact. In addition to how well the keyboard switch is constructed, the manufacturer's quality control processes can also affect its build quality.
Components of EV-00 Linear Switches
The following inside components of EV 00 linear switches make it perfect for gaming and typing with excellent sound output.
Stem: When a key is pressed, the stem moves up and down. A high-performance thermoplastic material known for its low friction and durability, POM (polyoxymethylene) is used in the EV 00 linear switch stem.
Spring: After a key press, the spring provides the resistance necessary to return the switch to its resting state. EV 00 linear switches use stainless steel springs to provide smooth, consistent keystrokes.
Housing: The housing supports the stem and spring of the switch and serves as its outer shell. In addition to being strong and impact-resistant, it is made of Nylon, a thermoplastic material.
Metal contact leaf: When the switch is pressed, the metal contact leaf makes electrical contact. The gold-plated contact leaf of the EV 00 linear switch provides excellent electrical conductivity and corrosion resistance.
PCB mount pins: The PCB mount pins are the two metal prongs that extend from the bottom of the switch and are used to attach the switch to a printed circuit board (PCB).
LED slots: The EV 00 linear switch has two slots on the top of the housing designed to accommodate 2x3x4mm LEDs, which can add backlighting to a keyboard.
As a result, EV 00 linear switches are made from high-quality materials and designed to last for a long time. A smooth and consistent keystroke experience is achieved by combining a polycarbonate housing, a POM stem, a stainless steel spring, a gold-plated contact leaf, and PCB mount pins.
How to Lube EV-00 Linear Switches?
It is possible to improve the overall feel of mechanical keyboard switches by using a lubricant to reduce friction and noise. The following are some general guidelines for lubricating EV 00 linear switches: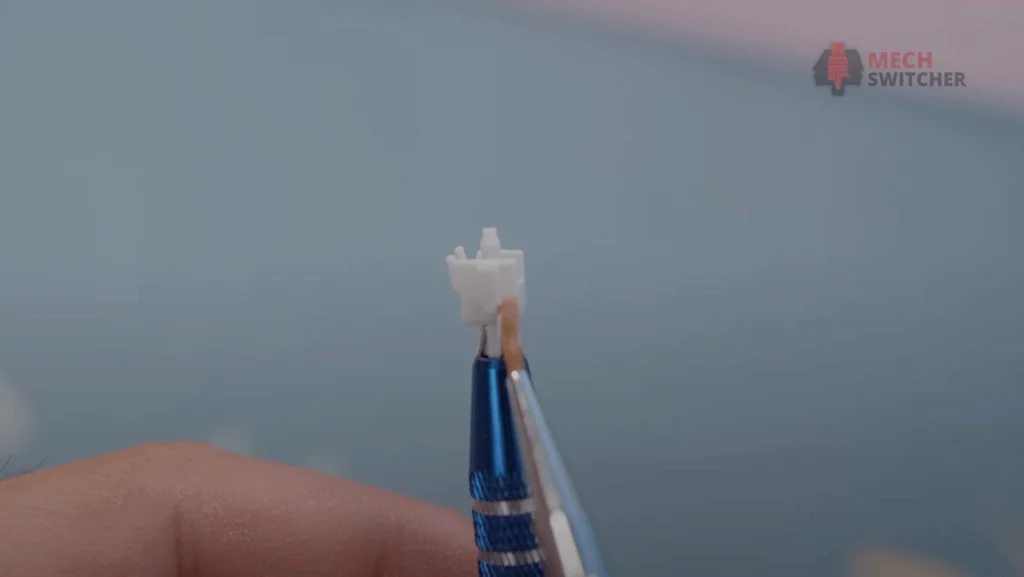 Gather the necessary materials: Lubricant (such as Krytox or Tribosys), a brush, and a small container to store the lubricant are required.
Disassemble the keyboard: To access the switches, remove the keycaps and open the keyboard. Before starting, make sure all power sources are disconnected.
Remove the EV 00 linear switches: Two metal pins attach each switch to the PCB. For removal, use a switch puller or gently wiggle the switch.
Apply the lubricant: A small amount of lubricant should be applied to the side rails and stem bottom using a brush or syringe. Avoid using too much lubricant since it can negatively affect the switch.
Reassemble the switches: The switches should be reinserted into the PCB and secured in place with the pins after applying the lubricant.
Test the switches: The keyboard must be reassembled with the switches working properly.(https://keyboard-test.space)
Lubricating switches requires precision and care. Under-lubricating may not provide the desired effect, while over-lubricating can decrease switch performance. Additionally, some keyboard enthusiasts prefer particular types of lubricants for their switches, so it's worth researching and testing before deciding.
FAQ – FREQUENTLY ASKED QUESTIONS
Final Takeaway:
Overall, EV 00 linear switches are perfect for gaming and typing. The smoothness, consistency, and scratchy keystroke sound make it my favorite mechanical switch. If you lube them properly, the keystroke sound is deeper and quieter. On the other hand, many people want affordable linear switches with high actuation force. Because of the extreme key push feel and outstanding durability, they're as happy as Larry for you.