WHAT ARE PRE LUBE LINEAR SWITCHES? – TOP 9 PRE LUBE SWITCHES FOR YOU
Pre-lube linear mechanical switches, also called magical switches, provide extreme smoothness on typing and gaming with high speed, decrease the sound level, and much more. So if you don't have time to lube your mechanical switch, move to pre-lube linear switches to save you money and time. So I've prepared a guide on pre-lube linear switches that make your decision clear;
What are Pre lube linear switches?
A pre-lube linear switch is a mechanical switch that provides excellent smoothness and a consistent keystroke feeling while typing and gaming. Plus, the typing and gaming with pre-lube switches are right as rain, and key pressing elated you.
Moreover, these lubricant linear switches reduce friction, dust, and dirt buildup because un-lubed mechanical switches cause keys to be stiff and unresponsive after use and affect your keystroke effort or make a key push slightly heavy.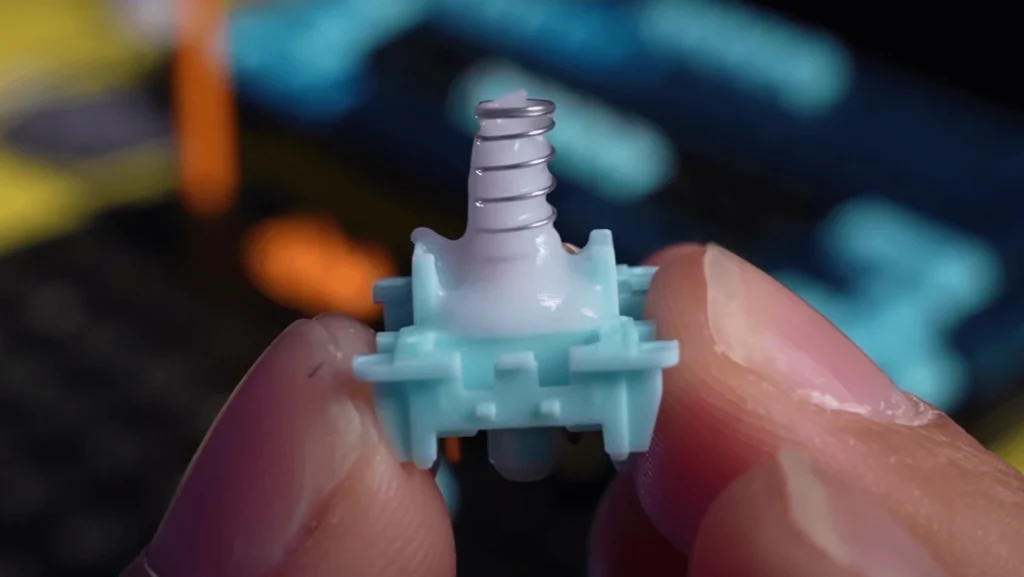 The dirt and dust buildup cause finger strain while playing heavy games. On the other hand, pre-lubed linear switches improve your keystroke consistency. Furthermore, a pre-lubricated linear switch usually consists of nylon and polycarbonate material with a POM stem.
Also, these mechanical switches are generally more affordable than linear, tactile, or clicky mechanical switches. After that, people love pre-lube switches due they're a great choice for a budget–minded person.
In linear switches, pre-lubricated switches have been lubricated before selling. The switch becomes smoother and less scratchy after lubrication. Some people prefer to lubricate their switches themselves instead of purchasing pre-lubed switches. And, here's is list of pre lube linear switches that community favorite mechanical pre lube linear switches such as
PRE LUBE LINEAR SWITCHES
| SWITCH | ACUTATION | PRE TRAVEL | TOTAL TRAVEL | BEHAVIOR | SOUND LEVEL | MORE GOOD FOR |
| --- | --- | --- | --- | --- | --- | --- |
| | 62g | 2.0mm | 3.7mm | Linear | Quiet | Typing |
| | 48g | 2.0mm | 4.0mm | Linear | Quiet | Typing & Gaming |
| | 40g | 1.8mm | 3.4mm | Linear | Quiet | Typing & Gaming |
| | 55g | 2.0mm | 3.5mm | Linear | Quiet | Typing & Gaming |
| | 50g | 2.0mm | 4.0mm | Linear | Quiet | Typing & Gaming |
| | 45g | 1.2mm | 4.0mm | Linear | Quiet | Typing & Gaming |
| | 60g | 2.0mm | 4.0mm | Linear | Quiet | Typing & Gaming |
| | 35g | 1.2mm | 3.4mm | Linear | Quiet | Typing & Gaming |
| | 62g | 2.0mm | 4.0mm | Linear | Quiet | Typing & Gaming |
The benefits of using a pre-lubricated switches
The benefits of using a pre-lubricated linear switch include the following:
Make a keystroke smoothness
Enhanced typing speed
The experience of typing is more consistent
You don't need to lubricate it before use
The keys become stiff and unresponsive when dust and dirt accumulate
An improved tactile feedback experience, with less noise and a softer feel
How to Choose the Right Pre-lube switches?
Choosing the right pre-lube linear switches might be difficult for newbies because you always consider curial factors, like budget, sound quality, and typing experience.
Plus, It is largely a matter of preference which pre-lube linear switches you choose for your keyboard. To find the switch that best suits your needs, you should experiment with various switches to find the one that offers the best level of tactility, actuation force, key travel distance, and responsiveness.
As well as taking the keyboard size and layout into account, some switches may be more suitable for certain keyboard types and sizes. Last, ensure a switch is available and affordable, as some switches may be harder to locate or more expensive.
So don't be sick as a parrot. Here is a list of the most favorite and popular pre-lube linear switches that might be perfect for you by performance as community love.
Type of Pre lube Mechanical switches
Linear pre-lubricated switches come in many different types, each with benefits and features. In terms of keyboard switches, the Cherry MX switch is the most popular type because it offers a smooth, comfortable typing experience. Outemu, Gateron, and Kailh switches are also popular types.
Linear pre-lube switches don't all function the same way. As a result of different actuation forces, different switches require different amounts of force to operate. Your typing experience will be influenced by the switch you choose.
Alpaca V2 Linear Switches
If you're looking for a smooth, reliable typing experience, the Alpaca V2 linear switches are a great choice. Plus, with a low-profile design and durability for the gaming experience. Moreover, with a light actuation force and a smooth sound, these switches provide a consistent and smooth feel.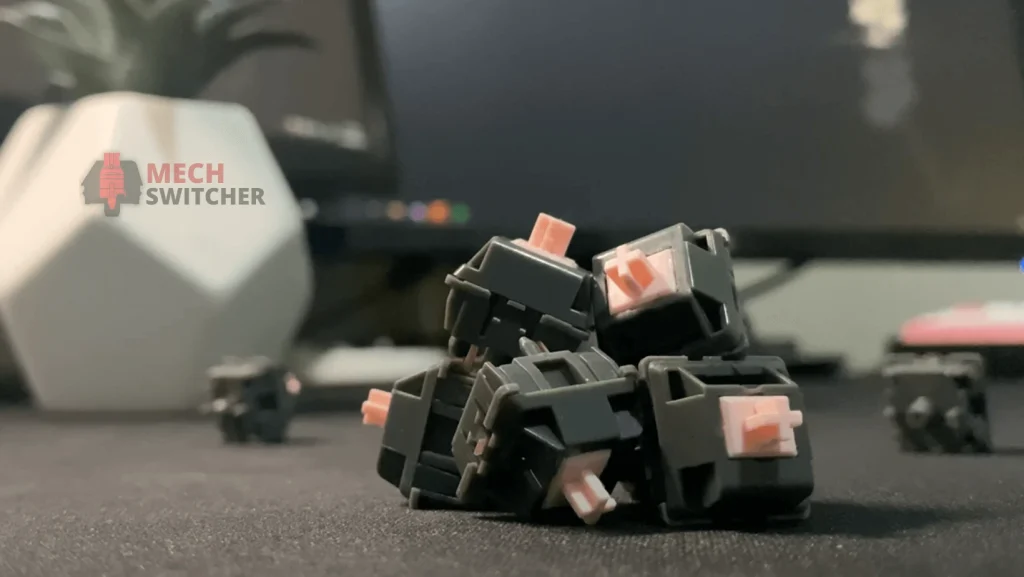 In addition, the factory lubricates them to ensure a consistent and smooth keystroke. Additionally, they are available in various colors with gold-plated 62g springs. Smooth and consistent linear switches are a great choice for those looking for a silent linear switch.
Also, A linear switch like the Alpaca V2 has a sound level of about 50 dB. Compared to other switches, they are relatively quiet, making them ideal for gamers or those who type quietly.
Moreover, the keystrokes are consistent and smooth as well. A great deal of satisfaction is felt by the ears when using Alpaca V2 linear switches. Their quality is generally considered to be top-notch. It has a smooth bottoming-out action and a stunning sound profile after lubing. Like Cherry MX Red linear switches, Alpaca V2 linear switches have a similar feel.
Pros
Smooth, consistent keystrokes 
Gold-plated springs weighing 62 grams 
A variety of colors are available 
Tactility and responsiveness in perfect balance 
The noise level is around 50dB
Ideal choice for gamers who like to play quietly 
Reliable and durable
Cons
Relatively expensive 
Not suitable for gaming
Require additional lubrication 
 Prefer tactile or audible feedback, it may suit you
Durock POM Switches
A Durock POM Linear Switches provides smooth, consistent keystrokes with a low actuation force. A durable POM material is used to manufacture the switch, which is designed to last many years.
These switches are popular among gamers and typists alike because they offer a comfortable and responsive typing experience. Additionally, they provide a reliable and consistent keystroke response when gaming.
Plus, a Durock POM linear switch is pre-lubricated at the factory and feels and sounds exceptionally smooth. They have gold-plated 62g springs, are available in various colors, and come with a light factory lube to ensure a smooth, consistent keystroke. With a sound level of around 50dB, these switches combine tactility and responsiveness.
Pros
The sound is deep and satisfying
Linear and smooth keypresses
High-quality performance
Improved performance due to pre-lubrication
An RGB backlighting option is available
Installs quickly and is easy to maintain
An excellent value for the money
Cons
Switches are not as smooth as others
Switches are not as responsive as others
Backlighting is not RGB
Customizability is limited
Weighing and actuating forces cannot be adjusted
Kailh Baby Kangaroo Linear Switches
Its smooth and linear typing experience has made Baby Kangaroo (Kailh) linear switches popular. They come with a shorter stem design for more excellent stability and are pre-lubricated for better performance.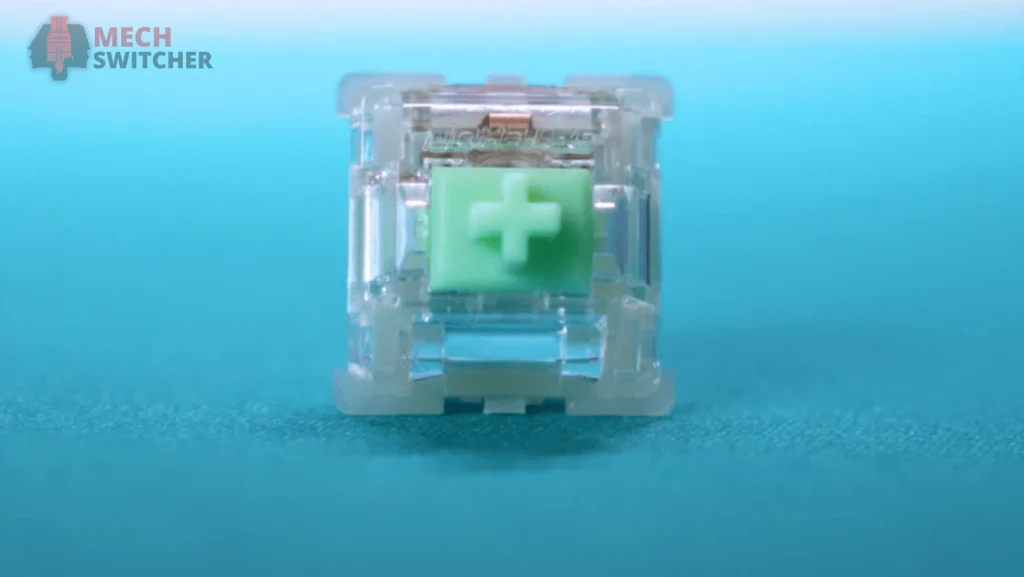 A 60g actuation force and dust-proof design make these switches ideal for fast-paced gaming or typing. Additionally, they are easy to install and clean, and they support RGB backlighting. Moreover, this linear switches is excellent for those seeking value for money.
Kailh Baby Kangaroo Linear Switches produce a medium level of sound. They have a tactile feel and a crisp bump, lasting up to 60 million cycles. They have a short stem design for better stability and are dust-proof for gaming and office use. Kailh Baby Kangaroo Linear Switches are priced between $0.20 and $0.30. Prices may vary between retailers, so shop around.
Pros
No tactile feedback 
Smooth and Fast
Dust-proof stem design  
Performance and stability are improved
Backlighting is RGB compatible
Installs and cleans easily
Ideal for gaming and typing at high speed 
Cons
Durability is not as good as other switches
There is no clicky sound
Some users may find it too light
Kailh Baby Raccoon Linear Switches
This linear switch features a baritone sound profile and is smooth and light. Each actuator features a 55gf actuation force, a 2mm actuation travel, and a 3.6mm total travel. Also, they are dust-proof and pre-lubricated for better performance and stability, and their long stems provide more stability and compatibility with RGB backlighting.
Its smooth typing experience, dust-proof design, and pre-lubricated construction have received mostly positive reviews from Kailh Baby Raccoon switch users. Furthermore, the 60g actuation force is ideal for fast-paced gaming and typing, and users say the switches are great for gaming and typing.
With a baritone sound profile and a visible but not overly loud click, the Kailh Baby Raccoon switches are characterized by a baritone sound. Their actuation is crisp, light, and consistent, as is their sound. A high-pitched click differs quite a bit from the sound profile.
Pros
For better performance and stability, 
They are dustproof and pre-lubricated.
An enhanced stem design and RGB backlighting 
Provide greater stability.
For fast-paced gaming or typing
Cons
Expensive linear switches
Not efficiently findable
Not Suitable for some keyboard
Gateron Cap Switches
Compared with other switches, Gateron Cap switches feature new molding and tighter tolerances to reduce wobble.Their pre-lubrication and durability make them ideal for use in the field.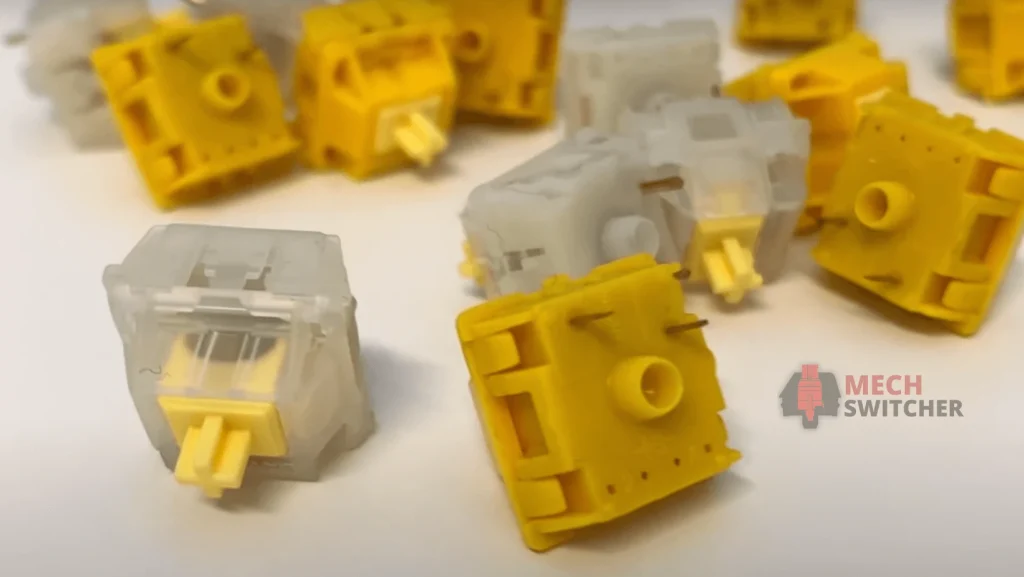 Furthermore, they are factory-lubricated. Also, their actuation force is 50gf, their travel is 2.0mm, and their total travel is 3.6mm. A variety of colors are available.
Gateron Cap switches have a fairly loud sound, but not one that overwhelms. This actuation is crisp and light, and the sound is more like a midrange click than a high-pitched one. The Gateron Cap switch has received mostly positive reviews, with customers praising its dust-resistant design and lubrication. Some users find the Gateron Cap switches quite stiff, which can cause discomfort.
Pros
Smooth and consistent key presses
Low noise
Low actuation force
Durable
Cons
Not as tactile as other switch types
Can feel a bit "mushy" compared to other
Require additional lube for optimal performance
Gateron ChinaJoy Switches
Gateron CJ stands for Chinajoy Linear switches are generally positive. Its smooth and linear typing experience and its quiet sound are known for their advantages. Fast, consistent keystrokes are available thanks to a 45g actuation force.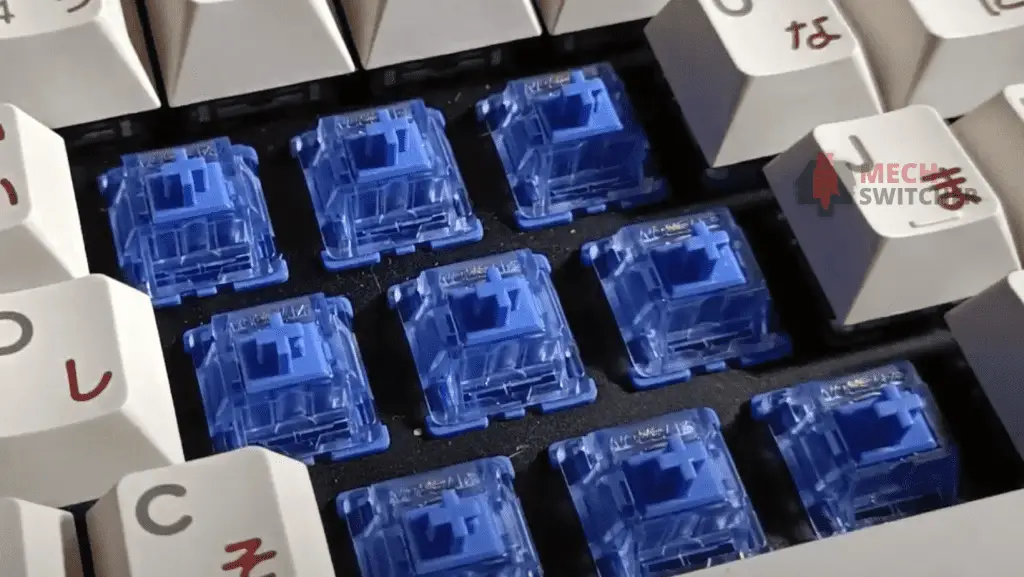 Pre-lubrication of Gateron CJ switches is part of the manufacturing process. In addition to reducing friction, this improves the switch's performance and produces a smoother, more consistent keystroke.
The LumeKeebs UltraThin film is recommended for optimal performance with Gateron CJ switches. Also, the switch fits most housings tightly. Their smooth, linear typing experience and quiet sound make them a good choice for most people. Prices for Gateron GJ Linear switches range from $0.60 to $0.70.
Pros
Fast and consistent keystrokes
Providing a smooth, tactile typing experience
Noiseless
Fits tightly into most housing
Keycaps and stabilizers for the Cherry MX system are compatible
Cons
Key wobble may occur
Dust and debris can negatively affect over switch
Gateron Black Linear Switches
A Gateron Black Ink linear switch is distinguished by its smooth, consistent keypress without a tactile bump. Pre-lubricated in the factory, they have a light actuation force of 60g and are pre-lubricated to reduce friction and improve performance. It provides a consistent key feel with a minimal key wobble and is generally considered to be quite quiet.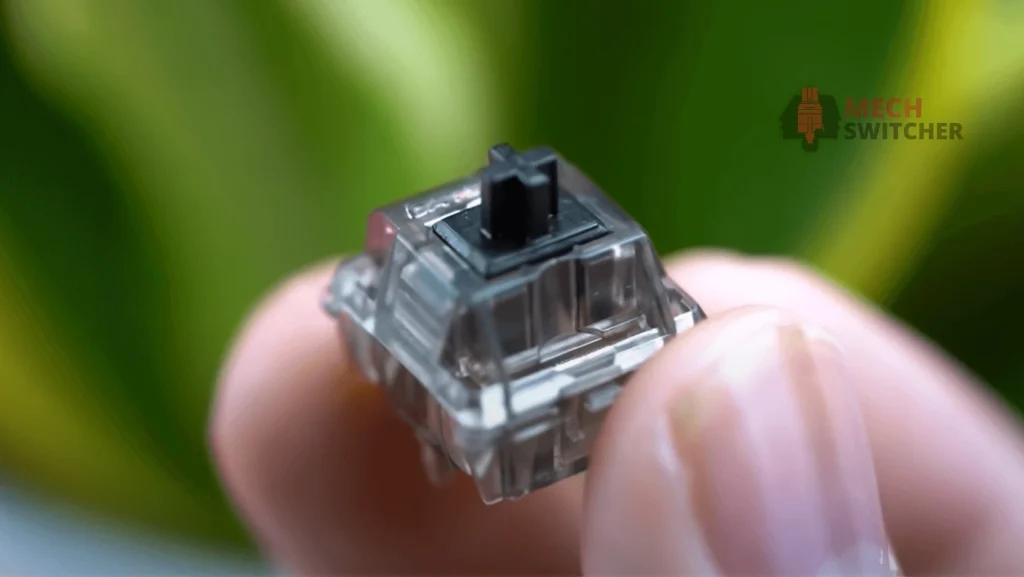 Also, the switch has generally received positive reviews, with many praising its smoothness and responsiveness. As for durability, some users have reported that the switch can withstand 30 million keystrokes without exhibiting any signs of wear.
The switch's lifetime warranty provides further peace of mind. Users looking for smooth and reliable typing experiences will find Gateron Black Ink linear switches a great choice. Each 10-pack costs approximately $7.50.
Pros
Consistent, smooth keypresses without bumps
A factory-applied lubricant improves performance
An actuation force of 50 grams is required
Quiet in general
Minimize key wobble
Provide a consistent key feel
30 million keystrokes
Peace of mind is provided by a lifetime warranty
Cons
Some linear switches are smoother than others
A light feeling may be too overwhelming for some users
As the pre-lube wears off, it may develop a scratchy feel
Gateron Speed Silver Pro Pre lube linear switches
Gateron Speed Silver Pro switches are linear switches, meaning they do not make an audible or tactile noise when pressed. The actuation point is 1.4mm, and the travel distance is 3.4mm.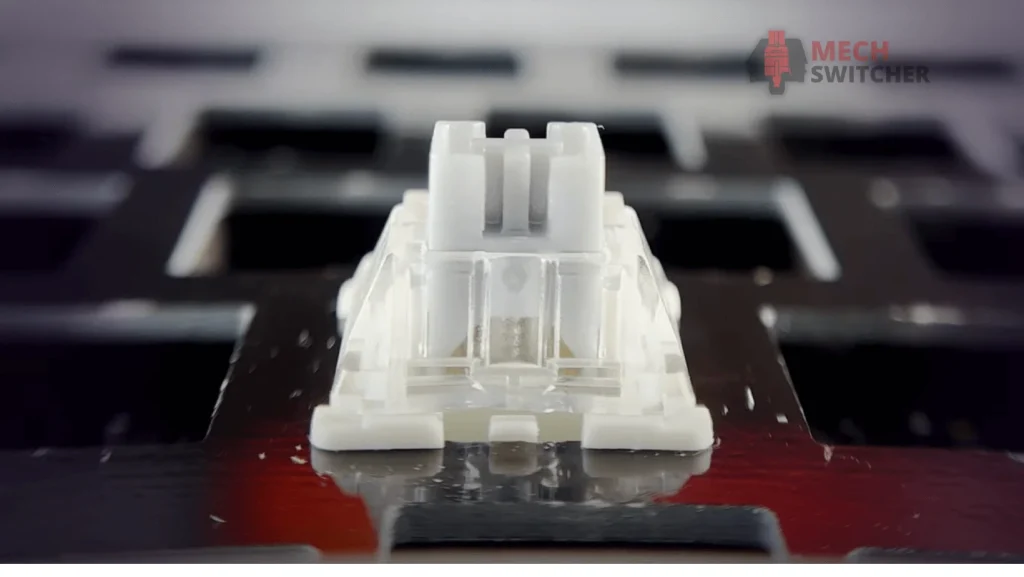 Gaming, typing, and general use are all great with the switches, which have a light actuation force of 35g. As part of our quality control process, we pre-lubricate our switches in the factory to reduce friction and enhance performance.
In addition to smooth and consistent keypresses, Gateron Speed Silver Pro switches minimize key wobble. Users generally find them quiet, though some might find them a little too loud.
Furthermore, some users have reported that they have been able to use the switches for up to 30 million keystrokes before experiencing any wear and tear. Additionally, the switch is backed by a lifetime warranty.
For users seeking a smooth and reliable typing experience, Gateron Speed Silver Pro switches are a great choice.
Pros
It takes only 50 grams to actuate it
Quiet in general
Lifetime Warranty 
Ensure that keys feel consistent
Most users report no signs of wear after 30 million keystrokes
Cons
Smoother than some high-end linear switches
Some users may find it too light
C3 Tangerine Linear Switches
As linear mechanical switches, C3 Tangerine switches do not have tactile bumps or audible clicks when pressed. There is a 4mm travel distance and a 2.0mm actuation point. Gamers, typists, and general users will enjoy these switches due to their light actuation force of 62g. For reduced friction and improved performance, switches are pre lubricated in the factory.
In addition to providing smooth and consistent keypresses, C3 Tangerine switches have a minimal key wobble. They may be a bit loud for some users, but they are generally quiet. In addition, some users have reported that the switches last up to 30 million keystrokes before showing signs of wear.A smooth and reliable typing experience is what users will find with C3 Tangerine switches.
Pros
Keypresses with minimal wobble and smoothness
The actuation force is 50 grams
Quiet in general
Keep the key feel consistent
30 million keystrokes
It is pre-lubricated in the factory to improve performance and reduce friction
Cons
Smoother than some high-end linear switches
Pre-lube may wear off over time, resulting in a scratchy feel
How to install pre-lube switches?
Linear switches can be easily installed with pre-lubricated oil. Several tools are necessary, including a Phillips head screwdriver, tweezers, and linear switch lubrication.
1: Removing the old keyboard switch is the first step. To remove the switch, remove the keycap and unscrew the plate.
2: Using tweezers, remove any dust or debris that has accumulated inside the switch once it has been removed.
3: Insert the pre-lubricated switch into the plate. Align and secure the switch properly.
4: Make sure the lubricant is evenly distributed on the switch's stem.
5: The keycap should be placed back onto the switch and securely fastened.
6: To ensure that the switch is working properly, you can now test it here (https://keyboard-test.space)
After these steps, your pre-lubricated linear switch will be installed and ready to use.
How to maintain pre-lube keyboard switches?
It is relatively easy to maintain a pre-lubricated linear switch.
1: Be sure the switch is still securely fastened to the keyboard, and check the switch stem for dents or scratches.
2: Keep the switch clean by removing dirt or debris periodically. Compressed air or a small brush can be used to do this.
3: Using a lubricant specifically designed for linear switches, you can lubricate it again if it feels scratchy or sticky.
4: The switch should be replaced if it becomes damaged.
FAQ – FREQUENTLY ASKED QUESTIONS
Final Thought
Linear pre-lubed switches are great for users who don't want the hassle of lubricating them. It depends on preference for which pre-lubricated linear switches to use, but Gateron is a popular choice.