WHAT ARE HIPPO LINEAR SWITCHES? – ALL YOU NEED TO KNOW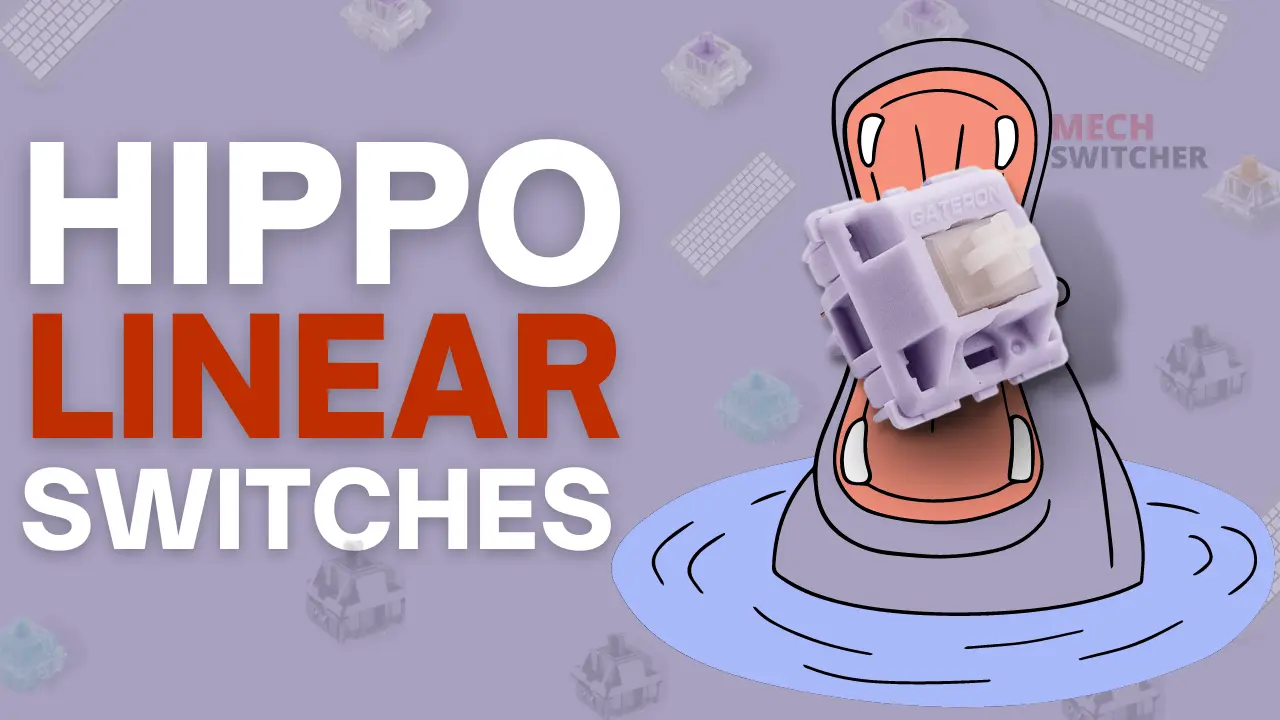 If you're finding a popular switch for your custom mechanical keyboard, Hippo linear switches are elated. Of course, the deep sound and keystroke smoothness make it bite at the cherry for gamers or typists with short actuation distance. So, I've prepared a detailed guide on this without tactile feel linear switches with different aspects.
What are Hippo Linear Switches?
Hippo is a type of mechanical keyboard switch that Kinetic Labs designed. Plus, these linear mechanical switches come with smooth travel distances due to the UHMWPE stem and nylon housing for providing extra smoothness with deep sounding from top to bottom on each keystroke.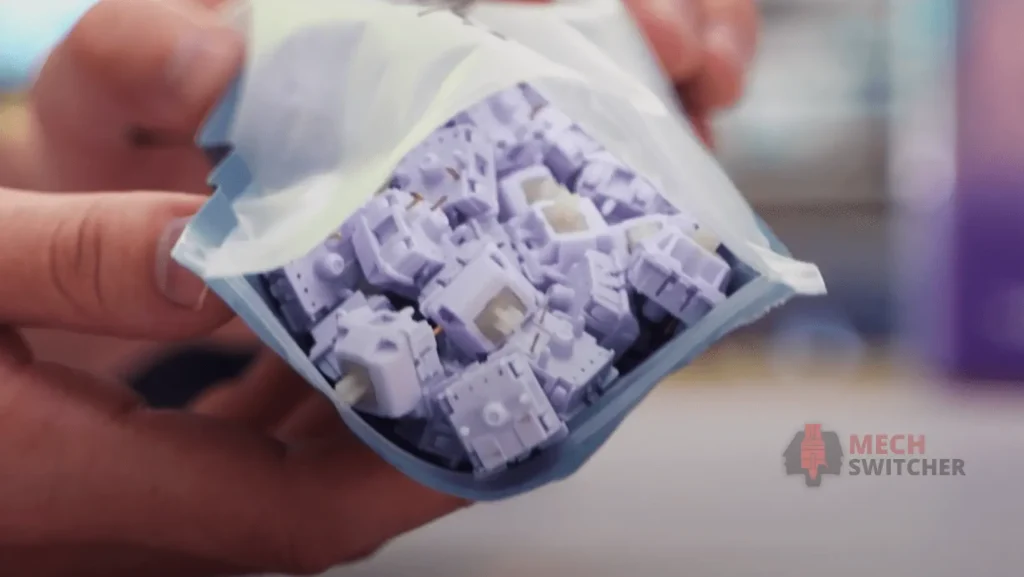 Regarding push feel, they're fairly solid linear switches that feature smooth operation. Also, several vendors sell these switches and other mechanical keyboard switches and accessories, including Hippo Keys. And, a popular choice for custom mechanical keyboards, they offer a smooth, without any tactile feel and a short actuation distance.
| HIPPO | SPECIFICATION |
| --- | --- |
| Pre Travel Distance | O.8mm |
| Total Travel Distance | 4mm |
| Operating Force | 55g |
| Bottom-out Force | 63.5g |
| Top Housing | Polycarbonate |
| Bottom Housing | Nylon |
| Stem | UHMPWE |
| Sound | Deep sound |
| Lifespan | 50 Million |
| Suitable | Gaming & Typing |
Benefits and Drawbacks
Hippo are popular with gamers and typists because they are smooth, durable, consistent, and great. Furthermore, I feel a few benefits and drawbacks to these hippo switches after long use.
Benefits
Smooth & Consistent: There is typically a smooth and linear feel. Without tactile feedback, they provide a consistent, smooth keystroke.
Quiet:: These switches are a good choice for shared workspaces or quiet environments because their quiet and deep sound makes typing comfortable and provides a satisfying sound with your keycaps.
Durable: According to mention and usage, the Hippo offer 50 million keystroke durability than other gateron or Cherry linear switches, which are good to use and can't strain over your pocket.
Reliable: Hippo are quite light in weight and optimal for gaming and typing. As an added benefit, these switches are extremely quiet and durable, making them an ideal choice for the workplace.
Compatibility: They're also have several other benefits, such as their low cost and widespread availability, their compatibility with a variety of keyboards, and their smooth and responsive performance.
Gaming Optimal: After playing GTA V and minecraft. I was elated to use it. Asking me if it's optimal for gaming and handling heavy games without finger strains.
Drawbacks
No tactile feedback: Due to lack of tactile feedback, you miss somehow rich keystroke feeling like tactile and clicky switches, but you get more speeding key push advantages.
Not customizable: They can't be customized, which means users cannot adjust actuation force or travel distance.
Features of Hippo Keyboard Switches
Here are curial features of Hippo that make your decision swiftly while purchasing.
Switch Type
Hippo mechanical switches are linear switches that provide bumps or click keypress feel when pressed. This switch type allows you to play heavy games or fast typing with continuous keystrokes without worrying about any tactile feedback because they can slow down the key push feel slightly.
Actuation Force
They've an actuation force of 55g. That actuation force indicates they're optimal for gaming and typing since they require moderate force. Moreover, the Hippo deep-sounding linear switches actuation force is slightly higher than Durock POM and gateron milky yellow switch.
Travel Distance
The pre-travel distance of Hippo is 0,8mm, and the total travel distance is 4mm, similar to Durock POM. Plus, these travel distances indicate the distance of the keypress down before registering. Moreover, most mechanical keyboards have the same travel distance as these switches.
Sound Level
It is generally believed that's quite quiet. This switch is quieter than most others due to its nylon housing. As well as contributing to smoothness and noise reduction, the stem is made of UHMWPE.
On the other hand, several reviewers consider the sound not muted in terms of overall sound compared to ALpaca V2 or other linear switches. Some noted that Krytox GPL 205g0 lubricates make the sound deeper, better, and more discreet.
Ask me. The only sound you listen, a plastic hitting the plastic when you press the key. The keycap bottom plastic hits the PCB plastic board and produces. But the overall sound is quiet and too good. In fact, as per testing, the lube makes the linear switches more right as rain. That's why many people consider pre-lube linear switches.
Durability
In addition to Gateron's first-ever UHMWPE stem, these Hippo also feature upgraded gold-plated dual-stage springs for greater durability with a 50 million keystroke lifespan.
By upgrading the upper cover mold, the switch will also be easier to pull out, and high-quality materials will ensure that it will be durable. Moreover, Gazzew's new leaf has been designed to reduce leaf ping and increase the switch's lifespan.
Smoothness
With their smooth motion and consistency, Hippo switches are perfect for people who don't like the small bump of tactile switches or the loud noise of clicky switches. The stems are Gateron's first UHMWPE, so they're smooth out of the box. The actuation experience is smooth and bump-free, according to people's reviews.
Gaming Comparison
Due to their smooth and consistent actuation, Hippo switches are popular among gamers. And gaming is made more enjoyable with its light and responsive feel. A Hippo switch offers a softer actuation force than similar linear, enabling faster and more accurate input.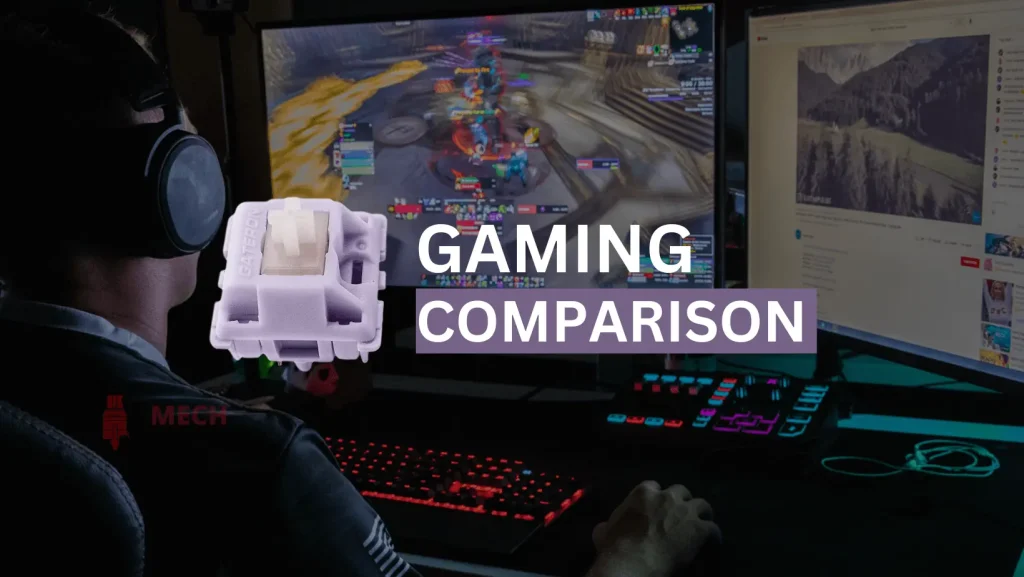 Moreover, the pre-travel on these switches is also lower than those on other linear switches, allowing you to type more quickly. Hippo switches produce a pleasant and consistent sound, although slightly louder than other ones.
Furthermore, a smooth and responsive feel, low pretravel, and pleasant sound are all characteristics of Hippo switches, which provide a great gaming experience.
Typing Comparison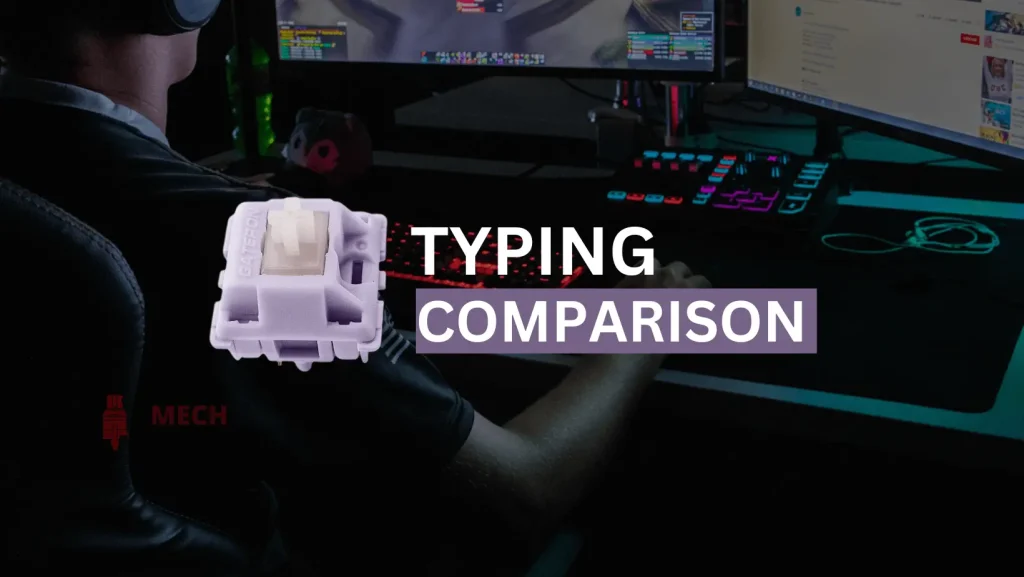 A Gateron Hippo Linear switch provides a comfortable typing experience due to its smooth, linear feel. The users also liked the responsiveness of the switches and how they balanced speed and accuracy well. Moreover, for those who prefer quieter typing, the switches have low actuation forces and are silent.
Build Quality
They're popular among gamers and types because of their excellent build quality. Moreover, It's a good idea to use a high-quality mechanical switch like this, as they are durable, consistent, and reliable.
This's the first time Gateron has used UHMWPE in a Gateron switch, which makes the Hippo Linear Switch unique. Ultra-High-Molecular-Weight Polyethylene, or UHMWPE, also has a low friction and smooth feel.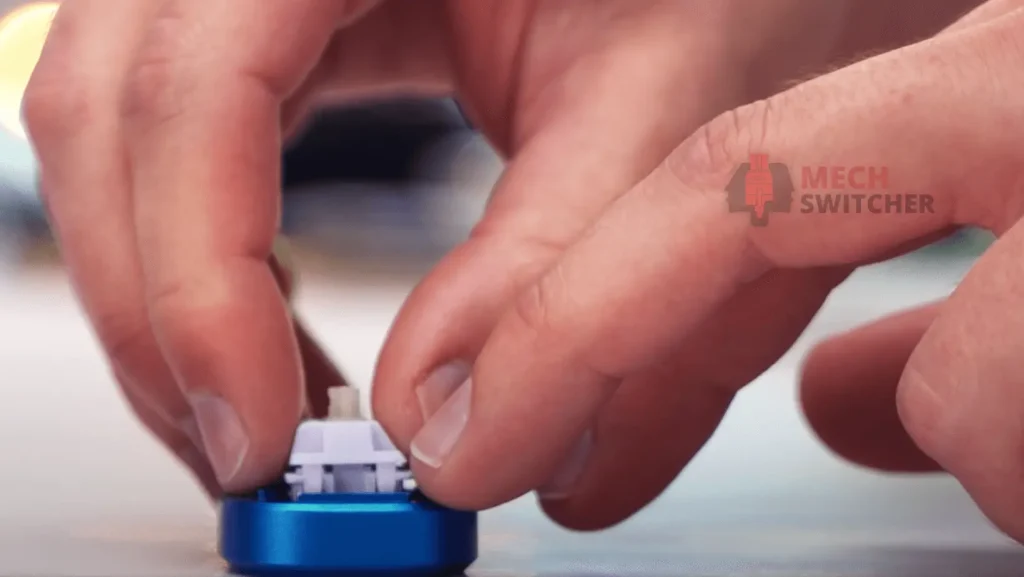 Plus, Hippo switches have a smooth keystroke with minimal resistance, which makes them great for typing. A satisfying tactile bump and good build quality round out the overall quality of the switch. As well as being water and dust resistant, these switches are a great choice for users who need a reliable switch.
Consistency
In addition, this allows for a smooth, consistent keystroke for a comfortable, reliable typing experience. They can also be more durable due to the UHMWPE stem, which makes them dust and water-resistant. Furthermore, Gateron's high-quality standards are tested on the switches to ensure consistency.
Quality Control
Hippo switches are known for being high quality and reliable. UHMWPE stems provide smooth, consistent keystrokes with minimal resistance, providing smooth and consistent operation. Also, Gateron's high standards for quality are tested on the switches. Furthermore, the switches are robust and durable, as well as dust- and water-resistant.
Components of Hippo Mechanical Switches
The Hippo switches comprise several components that ensure a smooth, reliable typing experience. There are the following main components to these switches.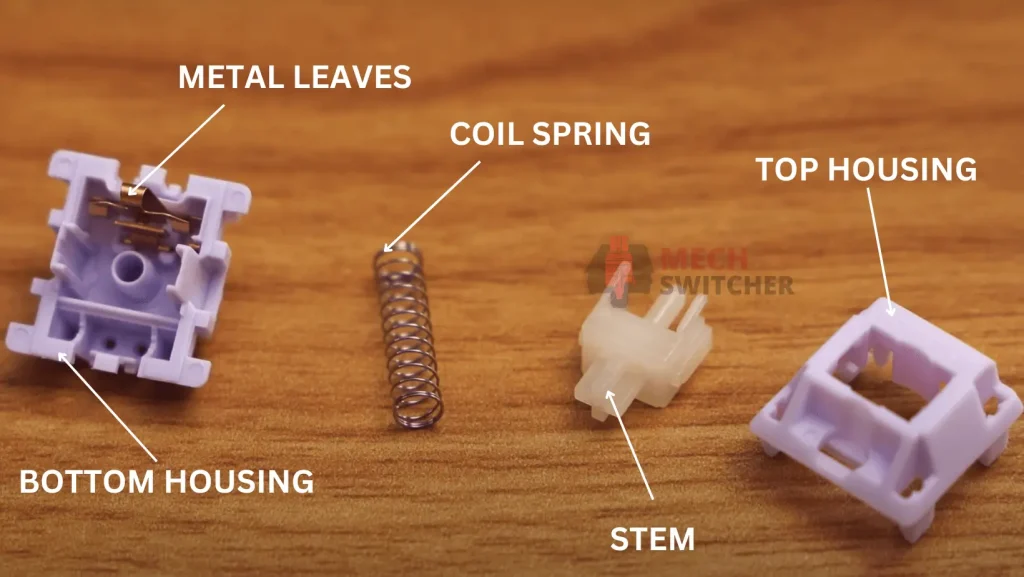 Housing: There are two types of housing available for the Hippo Switches, the top housing is made of nylon, and the bottom housing is made of INK. Also, a light lilac color on the top housing gives the sound signature a strong presence and a smoother, more balanced bottom housing.
Stem: Ultra-High Molecular Weight Polyethylene (UHMWPE) is used in the stem of Hippo switches. This provided a smoother tactile feel and increased durability compared to traditional switch stems. Moreover, the switch's nylon housing creates a deep sound signature when bottoming out.
Spring: A two-stage spring is used, which includes a stainless steel spring of 63.5g and a second spring to provide extra stability. In addition to providing a smooth, medium-strong linear typing experience, this combination of springs creates a fast and firm upstroke.
Metal Leaves: Polycarbonate top housing and gold-plated springs form the metal leaves. Pre-lubricated leaves ensure consistency and smoothness when typing. In addition, Hippo are manufactured with durable metal leaves to provide long-term reliable feedback and actuation.
How to Lube Hippo Keyboard Switches?
It is relatively easy to lubricate Hippo switches. Moreover, the stem of the switch must first be removed from the housing. Also, Removing the screws with tweezers or a small flathead screwdriver is possible.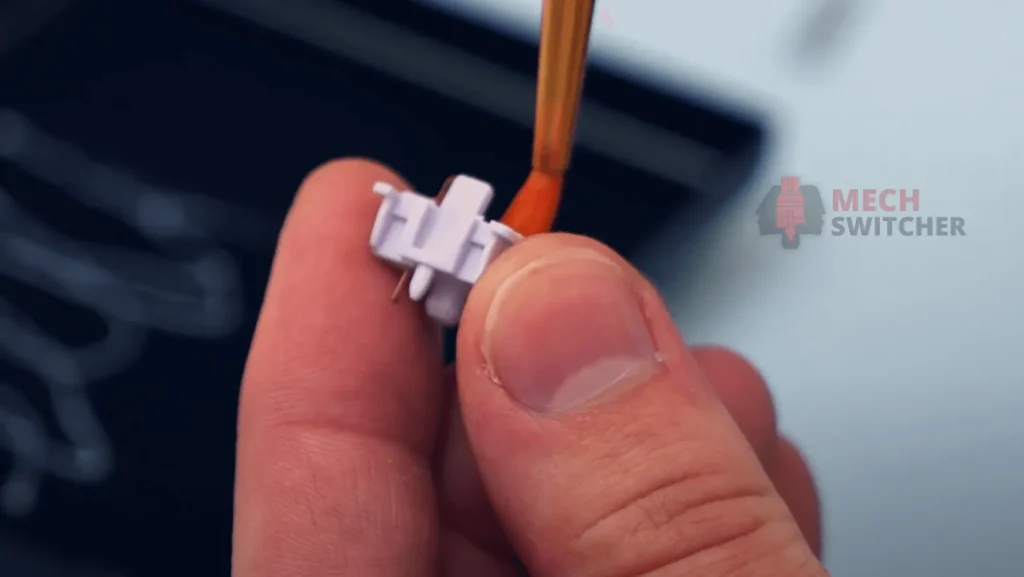 When removing the stem from the switch, apply lubricant to the stem and the sides of the housing with a small brush. Plus, the switch should be reassembled and tested after applying lubricant. Apply more lubricant if the switch is not working properly.
FAQ – FREQUENTLY ASKED QUESTIONS
Final Thought
In terms of smooth and consistent experiences, linear switches are a great choice. Compared to other linear switches, they are relatively quiet and provide good without tactile feedback or are too loud. Aside from their affordability and availability, Hippo are an excellent choice for people looking for an affordable keyboard upgrade. If you're seeking a linear switch that is smooth, reliable, and long-lasting, a Hippo is a great choice. They balance sound, feel, and performance, making them ideal for gaming and typing.