10 PERFECT GAMING KEYBOARD LINEAR SWITCHES – ALL YOU NEED TO KNOW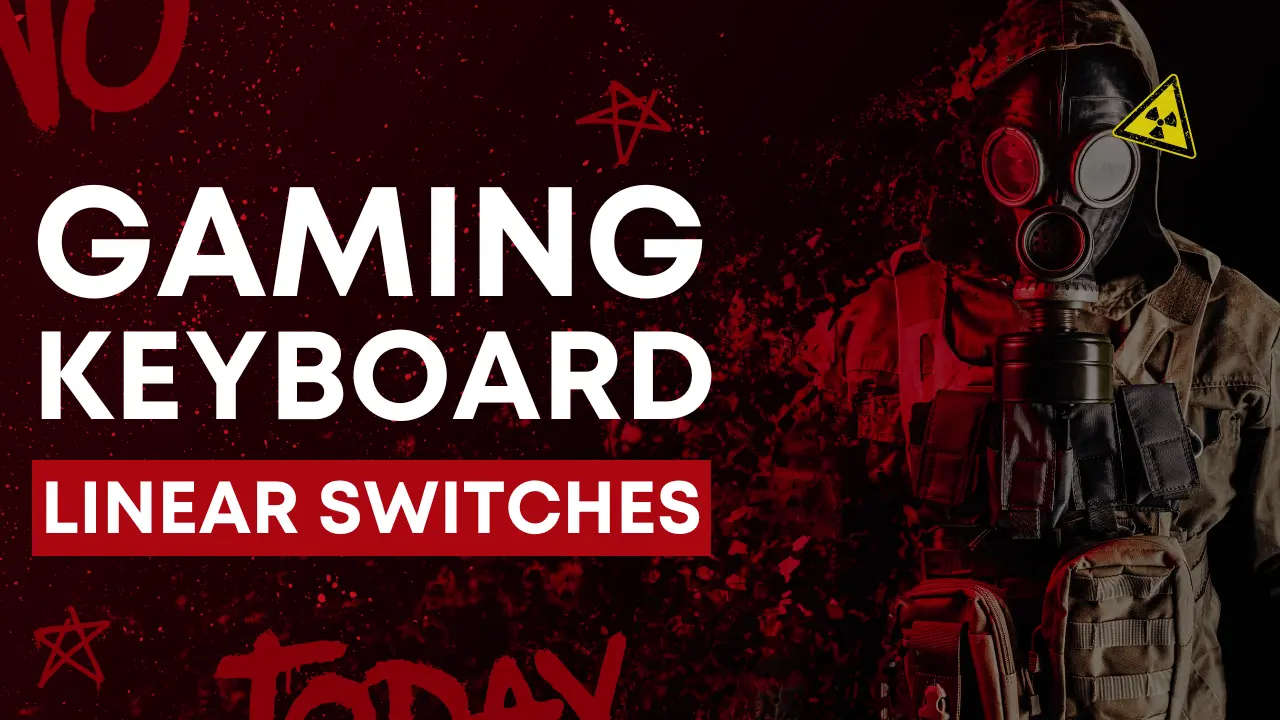 In linear switches, electing the perfect or best gaming keyboards linear switches is hard for newbies. In fact, despite spending money on linear switches, we still need to achieve a competitive advantage on heavy games and cause of finger strain from repeated keystrokes. So, I've prepared a detailed guide for getting the right gaming keyboard linear switches, without going pear-shaped. The Alpaca V2 and Durock linear switches are the best options in the public community.
Best Gaming Keyboard Linear Switches?
With that in mind, here are some of the best linear switches to buy based on how they differ from other mechanical switches.
ALPACA V2
In comparison to their original linear switches, Alpaca's linear switches are much better. Its successor, the Alpaca V2, is almost indistinguishable from its predecessor in nearly every aspect.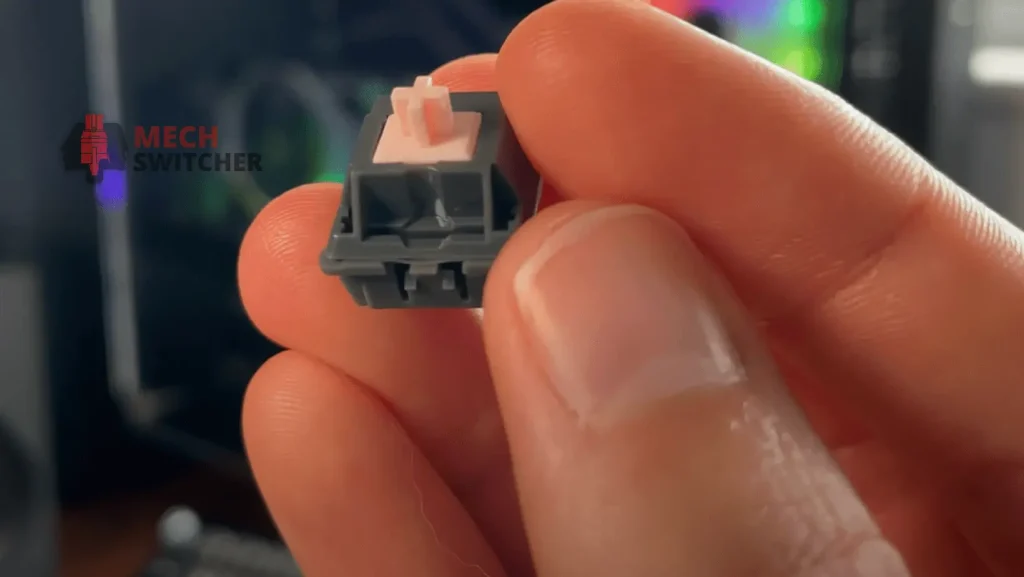 There is no awkward scratchiness to them. A satisfying and smooth bottoming out is experienced by the ears. Also, there's no difference in feel between, Alpaca V2 and V1. And, the Alpaca V2s possess a very low amount of stem wobble.
Moreover, a linear mechanical switch has 62g of bottom-out force, comparable to the Alpaca V2. These switches have a lot of personalities thanks to their distinctive light pink stems, a characteristic of alpacas. As well as being hand-lubricated at the factory, the switches are rarely oiled (as is the case with most pre-lubricated switches).
| ALPACA V2 | FEATURES |
| --- | --- |
| Top Housing | Polycarbonate |
| Bottom Housing | Nylon |
| Spring Weight | 62g |
| Stem Type | POM STEM |
| PCB MOUNT | 5-PIN |
| PIN THICKNESS | 2X THICK |
| Lube | Light Factory lube |
| Sound Level | Quiet |
| Installing ways | Easy To install |
Razer Linear Optical Switches
Razer linear optical switches have an actuation distance of 1.2mm, 16.67% shorter than other linear mechanical switches, and a relatively lightweight 45g actuation force.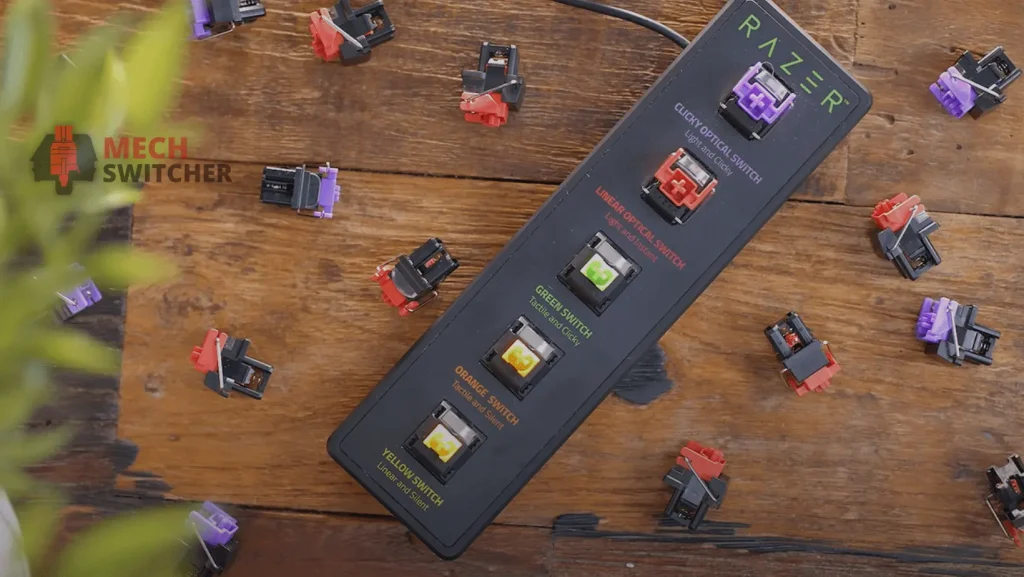 Gamers also benefit from linear optical switches because they don't produce tactile feedback and don't cause noise. Gamers, typists, newbies, and general users use linear mechanical switches.
The linear optical switch is also comfortable, durable, and more responsive than mechanical switches, making it ideal for ultra-competitive games where you can benefit from extra milliseconds. It is also easier to modify mechanical linear switches since they are quieter, have more options, and feel better and more enjoyable.
| RAZER OPTICAL | FEATURES |
| --- | --- |
| Key Feel | Light and Instent |
| Stability | Cross Stem With Stabilizers |
| Durability | 100 Million Clicks |
| Actuation Force | Light Actuation |
| Actuation Methods | 5-PIN |
| Actuation Point | 1.2mm |
| Keypress Touch | Soft Touch Feel |
| Sound Level | Light Noise |
| Optimal For | Playing Heavy Games |
Durock POM Linear Switches
There is no doubt that Durock linear switches are the most famous mechanical keyboards in the market, and their characteristics make them the best in the industry. Moreover, the longer travel distance and highly smooth response time make it superior to competitors. Cherry MX red and speed silver linear switches are less smooth and consistent than Durock linear switches.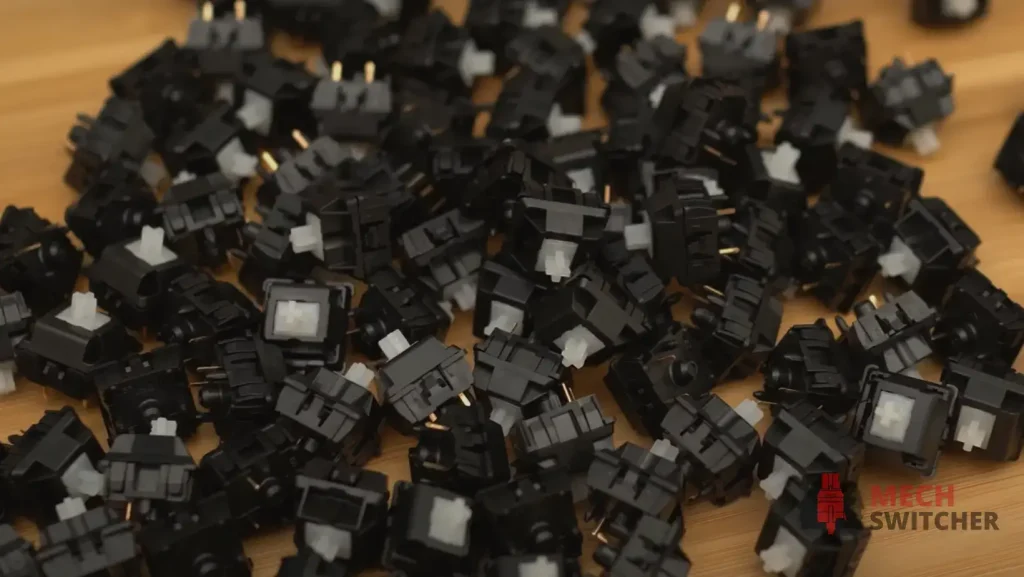 There is no comparison between Cherry MX red and speed silver linear switches and Durock linear switches in terms of smoothness and consistency. Installing the mechanism also involves clicking on the stem. As well as the PCB, make sure the stem is inserted. Furthermore, the stem is moderately sticky.
Additionally, there is no excessive stickiness on the stem. Also, the switch won't bump into your keyboard . For this switch, Black is a decent color choice. The stem's transparency makes it easy to see how many key presses remain. In fact, the switch is great for both gaming and typing. In addition, it's very responsive and reliable for anyone looking for a solid switch.
| DUROCK POM | FEATURES |
| --- | --- |
| Lube | Pre-lube |
| key Feel | Smooth |
| PCB mount | 5-pin |
| Installing | Easy to Install |
| Inside Plates | Gold Plated |
| Style Shape | LED style shape |
| Stem | Original White P3 Stems |
| Sound Level | Quiet |
C3 Tangerine
C3 prides itself on being the smoothest line in the game. The switches are well-lubricated right out of the box and are very comfortable to type on. Tangerines make part of the fruity series, and they come in orange housings with green stems.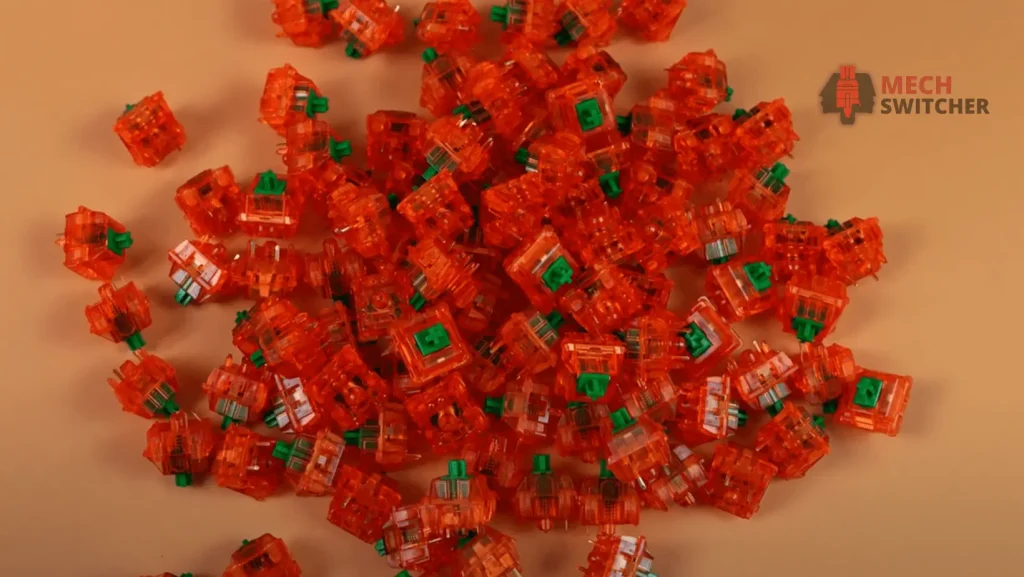 You're going to love this! There is a surprising level of thickness in C3, but it is not overpowering. Moreover, It's a pleasure to use the C3 tangerine switches.
C3 tangerines sound unconventional in terms of sound. A set of linear sets has quite a loud bottom-out sound. Tangerines give off a high-pitched "pop" instead of the traditional clack or thud. When typing fast, this can become quite annoying. You may like the sound!
C3 tangerines are not just cute, they're well-built. It has almost no stem wobble to be found, which was my only complaint.
Consequently, C3 is expensive if you want all its features and flair. Consequently, all the features and flair of C3 are expensive. The smoothest switches in the game are worth a little more to me.
| ALPACA V2 | FEATURES |
| --- | --- |
| Spring Weight | 67g |
| Lube | Lightly lubricated before use |
| Made by | WK and designed by C3 |
| Body housing | UHMWPE |
| Stem | 62g light green stem |
| Sound Level | Produce medium sound |
| Installing ways | Easy To install |
Gateron Ink Black Linear Switches
Among Gateron fans, the Black Ink switches are very popular. Also, black Inks feel scratchy in stock form, and their housing is full of wobbles. There is a thin and harsh feel to the bottom out.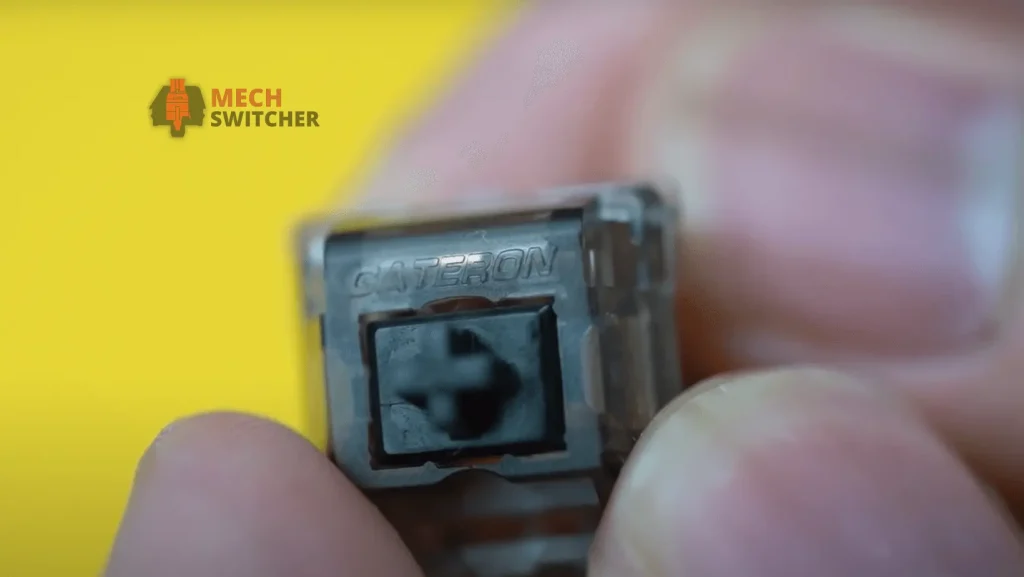 Also, these switches, however, completely change once they've been lubricated and filmed. Black Inks are great linear if you need reliable and creamy liners.
A little extra care will enhance the Gateron Black Inks' acoustics. The sound of these switches is greatly improved after applying a bit of Krytox 205g0. The Black Inks are now super satisfying and have a nice deep bass.
Gateron Black Inks are readily available, which is one of their best features. Most switch retailers sell them online, unlike other liners on this list. Because they don't require group buys, you can recommend them to beginners without hesitation.
| GATERON INK BLACK | FEATURES |
| --- | --- |
| Actuation Force | 60 g |
| Travel distance | 2 mm |
| Good for | Gaming and typing |
| Sound | Produce medium sound |
| Feel | Strong vertical pressing feel |
| Installing Process | Easy |
Gateron Speed Silver Pro
The Speed Silver Pros are ideal for gamers who enjoy a smooth linear experience. Nothing buttery smooth about these switches, and they're extremely consistent throughout. They are ideal for gamers because of their low actuation speed.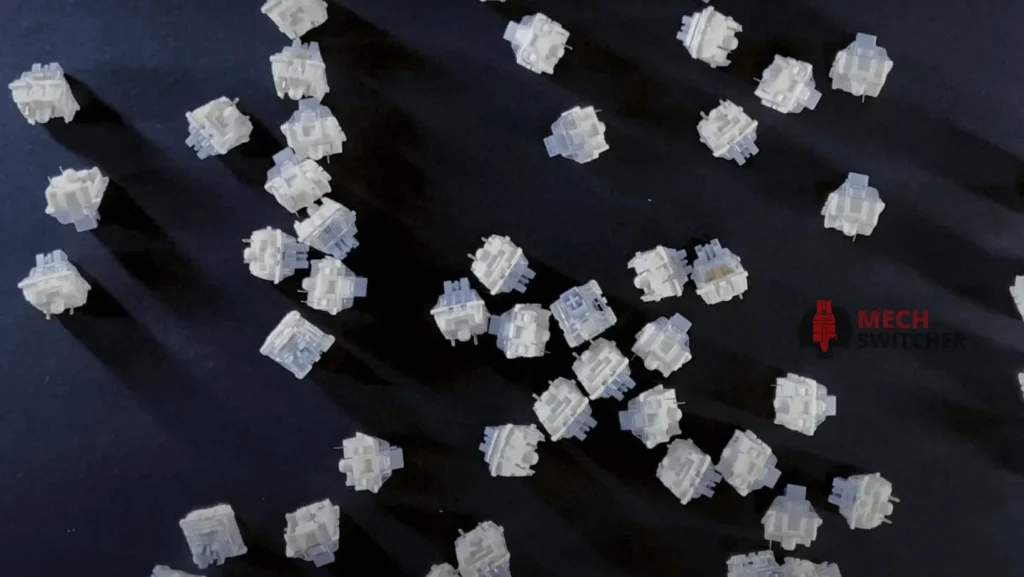 Additionally, the pros are well-lubricated from the factory. As a result, they are ready for use as soon as they are received. Activation occurs at 4 g and bottoms out at 65 g.
You can hear a low-pitched clack and a slight shock when you listen closely enough. This switch has no unpleasant sound, just like it is very smooth and consistent. Also, no unpleasant noises are produced by this switch, and it is smooth and consistent.
They're among the best choices for budget-friendly linear switches. These might be the right lines if you want smooth actuation and a great feel.
| GATERON INK BLACK | FEATURES |
| --- | --- |
| Pins | 3-pin Linear Switch |
| Inside Spring | Single Spring and Two-Stage Spring |
| Lubrication | Pre-lubed |
| Speed | Quick Trigger |
| Lifespan | 80 million cycles |
| Stability | Shaft should be stable |
| Operating Force | 45 grams |
| Total Travel Distance | 3.4mm |
| LEDs | SMD lights |
| Supported Pins | 2pin/4pin LEDs |
| Design | Dust-proof design |
Cherry MX Speed Silver
Games that require heavy input are increasingly being played on Cherry MX speed silver linear switches. A faster actuation force is also claimed due to their short travel times. It has a smaller actuation distance than Cherry MX reds, at 1.2mm.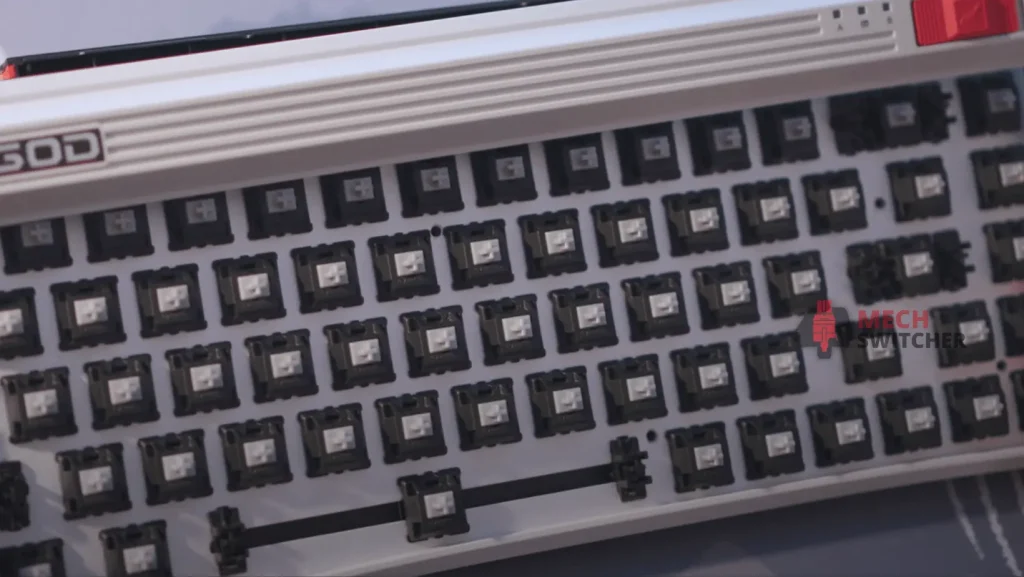 The Cherry MX Reds travel 4.0mm, and the Cherry MX Silvers travel 3.4mm. Thus, the switch travels faster and actuates faster. They cannot be tested for faster actuation, as their travel time is shorter. My mistakenly pressing the keys too often also made it difficult for me to get used to them. Furthermore, I mistyped or accidentally moved my character by reaching for the keyboard.
Due to this change, the switch actuation time and travel time have been shortened. Because they travel faster, it is impossible to test their ability to actuate faster. My mistakenly pressing the keys also required some practice. If I rested my fingers on the keyboard, it would result in incorrect characters or misspelled words.
| Speed Silver Linear Switches | Features |
| --- | --- |
| Actuation Force | 45+25 gf |
| Pre-distance | 1.2+0.4 mm |
| Total distance | 3.4+0.4 mm |
| Suitable for | Typing or gaming |
| Sound | Noiseless |
| Friction | Efficiently and comfortable to use, with no friction at all |
Gateron Milky Yellow
Gateron Milky Yellow switches are the linear budget king. There are no gaps here, as all boxes are ticked. You can type very smoothly, quietly, and with a satisfying feeling. An office worker who types a lot will appreciate this switch.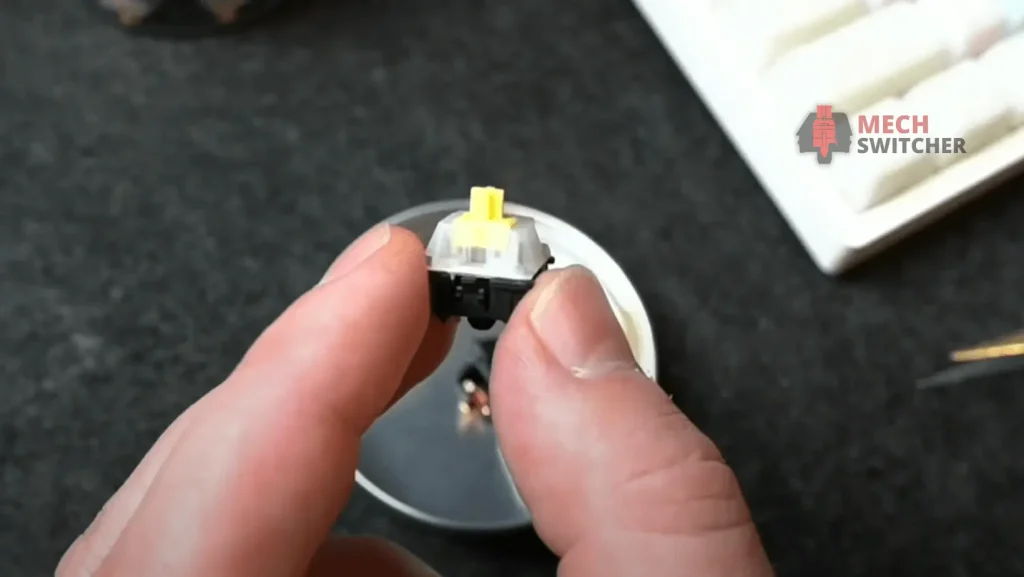 Gateron's have a consistent sound and feel compared to other milky yellows. Budget linear switches require it especially. This switch treads the line between cheap and good like no other on this list, even with its loud bottom-out sound. These are the best recommendations for beginners looking for a good set of linears that won't break the bank but still give you the full experience.
| Gateron Milky Yellow | Features |
| --- | --- |
| Actuation Force | 50g |
| Top Housing | Milky Color |
| Bottom Housing | Black Color |
| Total distance | 4.0mm |
| Good for | Typing or gaming |
| Sound | Noiseless |
| PCB Mount | Come with 5-pins |
NovelKeys Cream
Originally released in 2018, the NovelKeys Cream is still going strong. Despite this, they remain one of the best linear switches available today.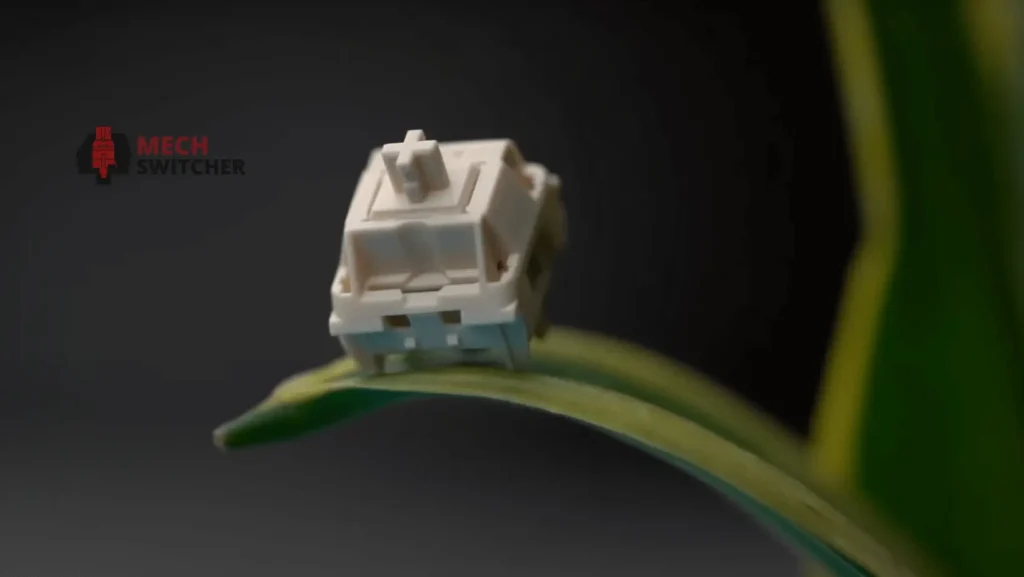 In addition to their POM construction, the NovelKeys Creams also help reduce friction, like the Durock POM liners. Out of the box, however, there are better options than these. The sound could be better, and they feel scratchy.
Creams, however, are excellent once they are lubricated. The switches feel super smooth, and as the POM housing breaks them in, this will only improve.
They have a very creamy and thumpy sound. This switch has a distinctive sound profile due partly to its housing construction, which produces a deep, rich sound. Also, the NK Creams are an excellent choice for those who want a super smooth linear that sounds awesome (provided you're willing to lube them up yourself).
| NovelKeys Cream | Features |
| --- | --- |
| Actuation Force | 55g |
| Bottom Out | is 70g |
| Operating Force | 2mm |
| Travel distance | 4mm |
| Perfect for | Gaming Keyboard Linear Switches |
| Lube | Stem and housing of POM that self-lubricate |
| Style | A latching style for MX housings |
Kailh Speed Silver
The Kailh Speed Silver switch is an excellent alternative to the Kailh Speed Bronze switch. This switch is Cherry MX Speed Silver, but it is more affordable. In addition to having a shorter actuation distance (0.1 mm), this switch is also faster.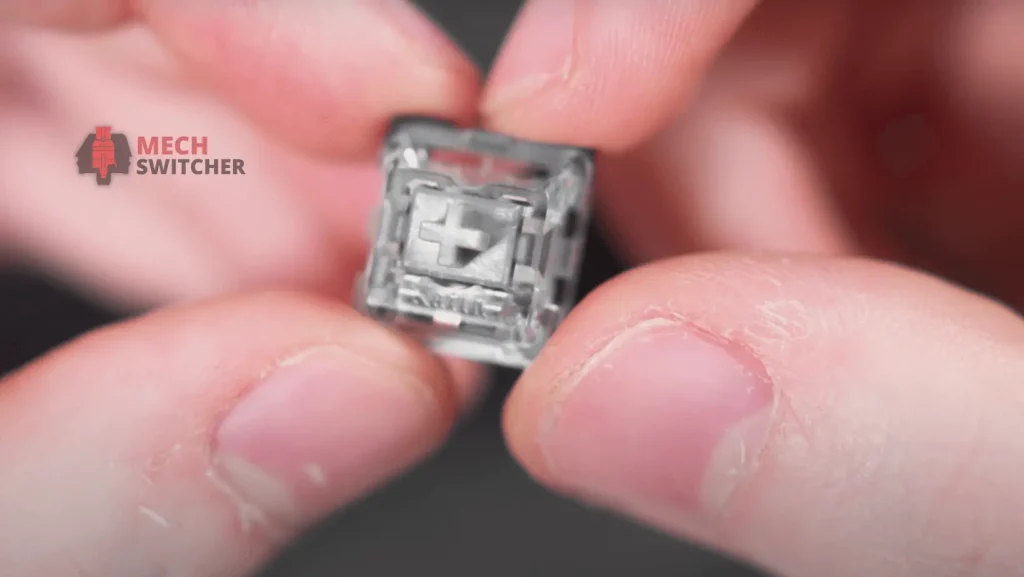 Are there any reasons why it ranks lower than Cherry MX Speed Silver? Cherry MX linear switches perform and last the same as Kailh linear switches. Cherry switches have undergone extensive testing, including checks on smoothness, durability, and 50-60 million keystrokes, unlike Kailh switches.
| Kailh Speed Silver | features |
| --- | --- |
| Actuation Force | 40g |
| Actuator Distance | distance of 1.1mm between the actuator and the actuator |
| Travel distance | 3.5 millimeters |
| Downward force | 70 grams |
| Sound | The sound is too quiet |
| Feel | Provide a smooth feeling while using |
FAQ – FREQUENTLY ASKED QUESTIONS
Final Takeaway
All the list of linear switches for gaming keyboards is right as rain, and the fastest mechanical switches over tactile and clicky switches. And suitable for heavy gaming competition. But still, if sick as a parrot to electing the right one. The Alpaca V2 and cherry MX speed silver switches are my favorite for gaming and fast typing. But only gaming razer optical linear switches are a better option.